French Onion Chicken & Rice Casserole Needs to Be on Every Family Dinner Table!
Casseroles take the pressure off making dinner every night for a large family. Casseroles that have most if not all food groups are even better and we have one right here with French Onion Chicken & Rice Casserole. Chicken and rice and a classic combo, all it needed is cheese of course! Now that we have a ooey gooey casserole, we also need texture that's where covering the whole thing in crunchy, salty French's fried onions really is the cherry on top of this soon to be family favorite!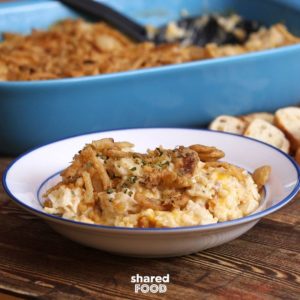 Ingredients
2 cups instant white rice
2 cups water
2 cups chicken, cooked and chopped
8 ounces French onion dip
1 can cream of chicken soup
½ cup chicken broth
1 cup cheddar cheese, shredded
1 cup French's fried onions
Instructions
Preheat oven to 350 degrees. Prepare a 9x13-inch pan with nonstick spray. Set aside.
In a medium saucepan, bring water to a boil. Add instant rice, cover and turn off heat. Allow to stand for 5 minutes, until all water is absorbed.
In a large bowl, combine chicken, chicken soup, French onion dip, cheddar cheese, chicken broth and cooked rice. Spread into prepared pan. Top with French's fried onions.
Bake for 20-25 minutes, until cheese is melted and bubbly.
Watch the recipe video here: