Slow Cooker Balsamic Glazed Roast Beef
I don't know about you guys, but every Sunday my mom would make a mean roast. It was something I looked forward to every week. The juicy, tender beef, with the soft, flavorful carrots and potatoes…doesn't get much better than this! This recipe, in particular, is a little different with the balsamic, but so so good!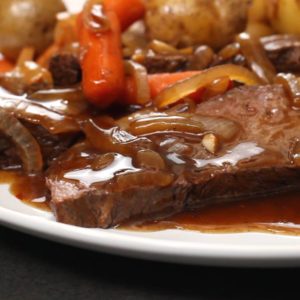 Ingredients
1 Tbsp Oil
3 pounds Chuck
1 Large Onion, sliced
4 Cloves Garlic, chopped
½ tsp Red pepper flakes
1 CUP Beef broth
½ CUP Balsamic vinegar
2 Tbsp Soy sauce
2 Tbsp Brown sugar
1 Tbsp Worcestershire sauce
1 pound Baby carrots
1 pound Mini potatoes
2 Tbsp Cornstarch + 2 tablespoons water
Instructions
Heat the oil in a large pan over medium-high heat, add the beef and brown on all sides and set aside.
Add the onions and cook until tender, about 2-3 minutes, before adding the garlic and red pepper flakes and cooking until fragrant, about a minute.
Place the beef, onions, broth, balsamic vinegar, soy sauce, brown sugar, Worcestershire sauce, carrots and potatoes in a slow cooker, cover and cook on high for 3-5 hours.
Remove the carrots, potatoes and beef and slice the beef.
Skim any fat from the cooking juices, place it in a sauce pan, bring to a simmer, add the mixture of the cornstarch and water and cook until the glaze has thickened a bit
Poor over prepared plate.
Enjoy!
Watch the recipe video here: