Slow-Cooker BBQ Ribs (Asian-Style)
https://www.facebook.com/buzzfeedpropertasty/videos/2010415479171122/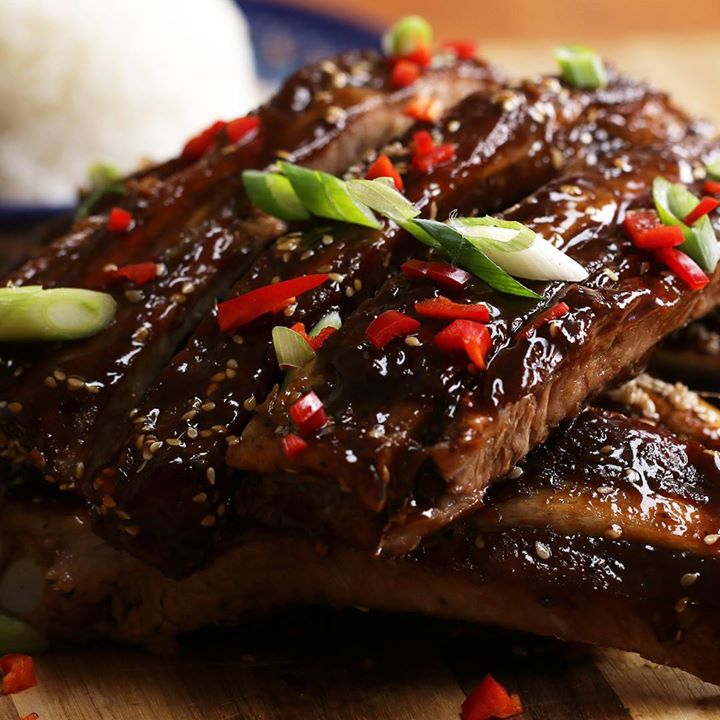 Ingredients
1 rack spare ribs
spring onion, to garnish
red chili, to garnish
rice, to serve
SEASONING
1 tablespoon salt
1 tablespoon pepper
1 tablespoon chinese 5 spice
MARINADE
1 tablespoon garlic, minced
1 tablespoon ginger, minced
1 onion, chopped
3 tablespoons hoisin sauce
200 mL (1 cup) chicken broth
STICKY BBQ SAUCE
leftover slow cooker juices
50 mL (¼ cup) water
2 teaspoons corn flour
2 tablespoons brown sugar
2 tablespoons sesame seeds
Instructions
Season the spare ribs with the salt, pepper, and 5 spice.
Place in the slow cooker, along with the garlic, ginger, onion, hoisin sauce, and chicken broth. Mix with your hands to combine.
Cook on high for 3 hours, or low for 6 hours.
Preheat the oven to 325°F (170°C).
Once the ribs are cooked, carefully remove them and place onto a tin foil-lined baking tray.
To prepare the BBQ sauce, take the remaining cooking juices from the slow cooker and pour into a frying pan set over a medium heat.
In a small bowl combine the water and corn flour, stir into the cooking juices. Add remaining BBQ sauce ingredients and reduce until a sticky BBQ sauce is achieved.
Brush onto the ribs on both sides and bake for 15 minutes.
Chop up the ribs and garnish with spring onion and red chili.
Serve with rice.
Enjoy!
Watch the recipe video here: