Kitchen Sink Frittata Bagel Sandwich
Bacon, egg and cheese frittata between an everything bagel... Jeff Mauro takes the breakfast sandwich to the NEXT LEVEL ???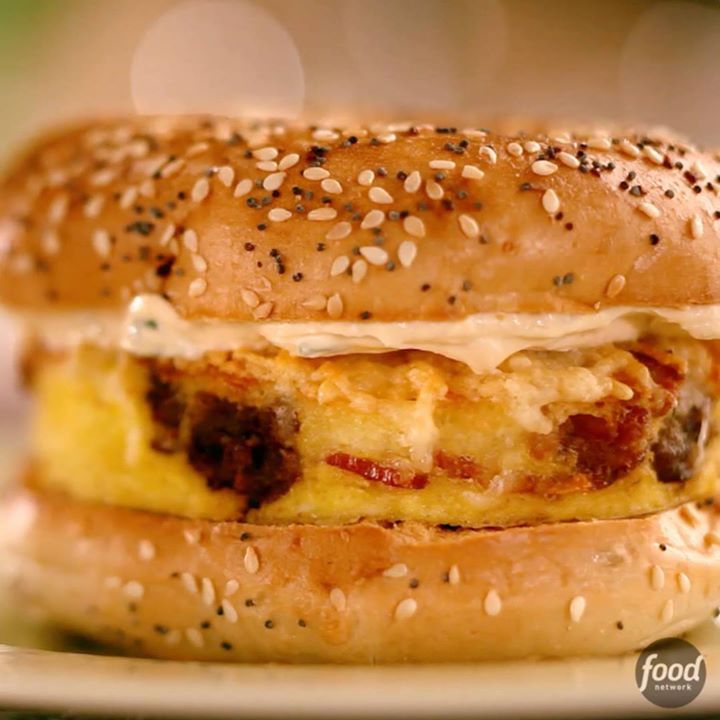 Ingredients
8 slices bacon, chopped
8 ounces bulk Italian sausage, casings removed, chopped or crumbled
12 large eggs
3 tablespoons half-and-half
1 cup grated asiago
1 cup grated provolone
Salt and freshly cracked black pepper
Salt and freshly cracked black pepper
3 ounces cream cheese, at room temperature
¼ cup sour cream
1½ teaspoons Sriracha (or to taste)
1 scallion, minced
4 everything bagels, split and toasted
Atomic Hash Browns, for serving, recipe follows
Atomic Hash Browns:
2 pounds russet potatoes, peeled, coarsely grated on a box grater and squeezed dry in a kitchen towel
1 teaspoon granulated garlic
1 teaspoon paprika
¼ teaspoon cayenne
Salt and freshly cracked black pepper
2 tablespoons butter
2 tablespoons olive oil
Instructions
Special equipment: 3½-inch-to-4-inch cookie cutter.
Adjust an oven rack to the middle position and set the oven to broil.
In an ovenproof 12-inch nonstick skillet set over medium heat, add the bacon and cook until just crisp, 4 to 5 minutes. Then set aside. Add the sausage, cooking until well browned and making sure to break it up as it cooks, about 6 minutes. Set the sausage aside with the bacon and discard all but 1 to 2 tablespoons of the pork fat.
Whisk the eggs and half-and-half together. Add the egg mixture to the skillet with the pork fat, set it over medium heat and stir the eggs using a rubber spatula, scraping and tilting the pan to slide the egg mixture around the pan. Cook until the bottom is set and the top is still wet and glistening, 2 to 3 minutes. Then add in the cooked meats and cheeses, and season with salt and pepper. Use a spatula and press the ingredients into the eggs.
Place in the oven and cook until lightly golden on top and puffed up, 2 to 4 minutes. Then let the frittata rest for 5 minutes before slicing.
Combine the cream cheese, sour cream, Sriracha and scallions in a mixing bowl and season with salt and pepper.
Slide the frittata onto a cutting board and cut into rounds using a 3½-inch-to-4-inch cookie cutter, depending on the size of your bagel. Place a frittata round on each bagel and top with a generous smear of sauce. Serve with a side of Atomic Hash Browns and some extra sauce for dippin'.
Atomic Hash Browns:
Heat a 12-inch nonstick skillet over medium heat.
Toss the potatoes with the granulated garlic, paprika, cayenne and some salt and pepper in a medium bowl.
Add half of the butter and half of the oil to the skillet. Let melt, and then add the potatoes, pressing them down with a spatula. Cook until crisp and golden brown on one side, 5 to 7 minutes.
Set a baking sheet or a large plate over the skillet and carefully invert the potatoes onto the baking sheet. Add the remaining butter and oil to the skillet and slide the potatoes back in, un-cooked side down, and cook until golden and crispy on the second side as well, 4 to 5 minutes.
Slide onto a cutting board and cut into wedges to serve.
Watch the recipe video here: