Orange Dream Pull-Apart Bread
My baking therapy is to make treats for friends and co-workers. This pull-apart bread makes everyone smile as they face a busy day. —Vickie Friday Martin, Scroggins, Texas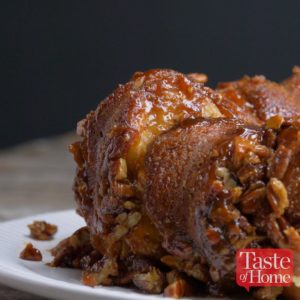 Ingredients
1 package (8 ounces) cream cheese
2 tubes (7-1/2 ounces each) small refrigerated buttermilk biscuits (10 count)
1 cup packed brown sugar
1 cup chopped pecans
4 teaspoons grated orange zest
½ cup butter, melted
Instructions
Preheat oven to 375°. Cut cream cheese into 20 pieces. Using a small knife, cut a horizontal pocket into the side of each biscuit; fill each with a piece of cream cheese. Pinch opening to seal.
In a shallow bowl, mix brown sugar, pecans and orange zest. Dip biscuits in melted butter; roll in brown sugar mixture. Stand biscuits on their side in a greased 10-in. fluted tube pan.
Bake until golden brown, 35-40 minutes. Cool in pan 5 minutes before inverting onto a serving plate. Serve warm.
Watch the recipe video here: