Rainbow Grilled Chicken Salad
The perfect salad to get all your veggies in for the day!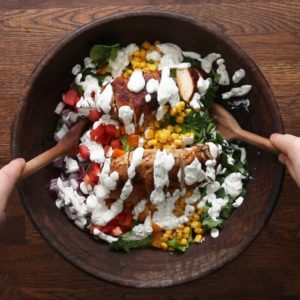 Ingredients
2 chicken breasts
1 teaspoon salt
½ teaspoon black pepper
½ teaspoon chili powder
½ teaspoon cumin
½ teaspoon garlic powder
½ teaspoon oregano
1 tablespoon olive oil
Dressing
1 cup sour cream
¼ cup cilantro, minced
¼ teaspoon pepper
¼ teaspoon salt
1 tablespoon lime juice
Salad
1 head romaine, chopped
½ cup red onion, diced
½ cup tomatoes, diced
½ cup orange bell pepper
¾ cup corn
½ cup cilantro, chopped
¼ cup jalapeño, diced
Garnish
Instructions
Season chicken breasts with salt, pepper, chili powder, cumin, garlic powder, oregano, and olive oil.
Cook over medium heat for about 10 minutes on each side or or until internal temperature reaches 165˚F/75˚C. Remove from pan and slice breast into pieces.
In a bowl, mix sour cream, cilantro, pepper, salt, and lime juice. Set aside until you are ready to serve.
In a salad bowl, assemble the salad with the romaine on the bottom. Top with red onion, tomatoes, orange bell peppers, corn, cilantro, and jalapeños.
Gently, toss salad with the sour cream dressing. Garnish with avocado slices and tortilla strips.
Enjoy!
Watch the recipe video here: