Gurkensalat (German Cucumber Salad)
A traditional German favorite that I have loved since I was a child. This recipe is quick, easy, and delicious. Substitute cider vinegar for a different flavor. I prefer to leave the skins on the cucumbers for more texture and flavor, but they can also be peeled prior to slicing if desired. Flavor is best when marinated for several hours before serving.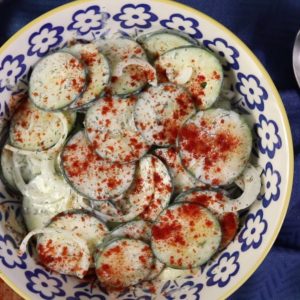 Ingredients
2 large cucumbers, sliced thin
½ onion, sliced thin (optional)
1 teaspoon salt
½ cup sour cream
2 tablespoons white sugar
2 tablespoons white vinegar
1 teaspoon dried dill
1 teaspoon dried parsley
1 teaspoon paprika
Instructions
Spread cucumbers and onion on a platter; season with salt and let rest for 30 minutes. Squeeze excess moisture from cucumbers.
Stir sour cream, sugar, vinegar, dill, and parsley together in a large bowl.
Fold cucumber and onion slices into the sour cream mixture.
Refrigerate 8 hours to over night; garnish with paprika to serve.
Watch the recipe video here: