20-Minute Beef And Broccoli Noodle Stir-Fry
Transform instant ramen into a wholesome stir-fry that's the ultimate weeknight dinner!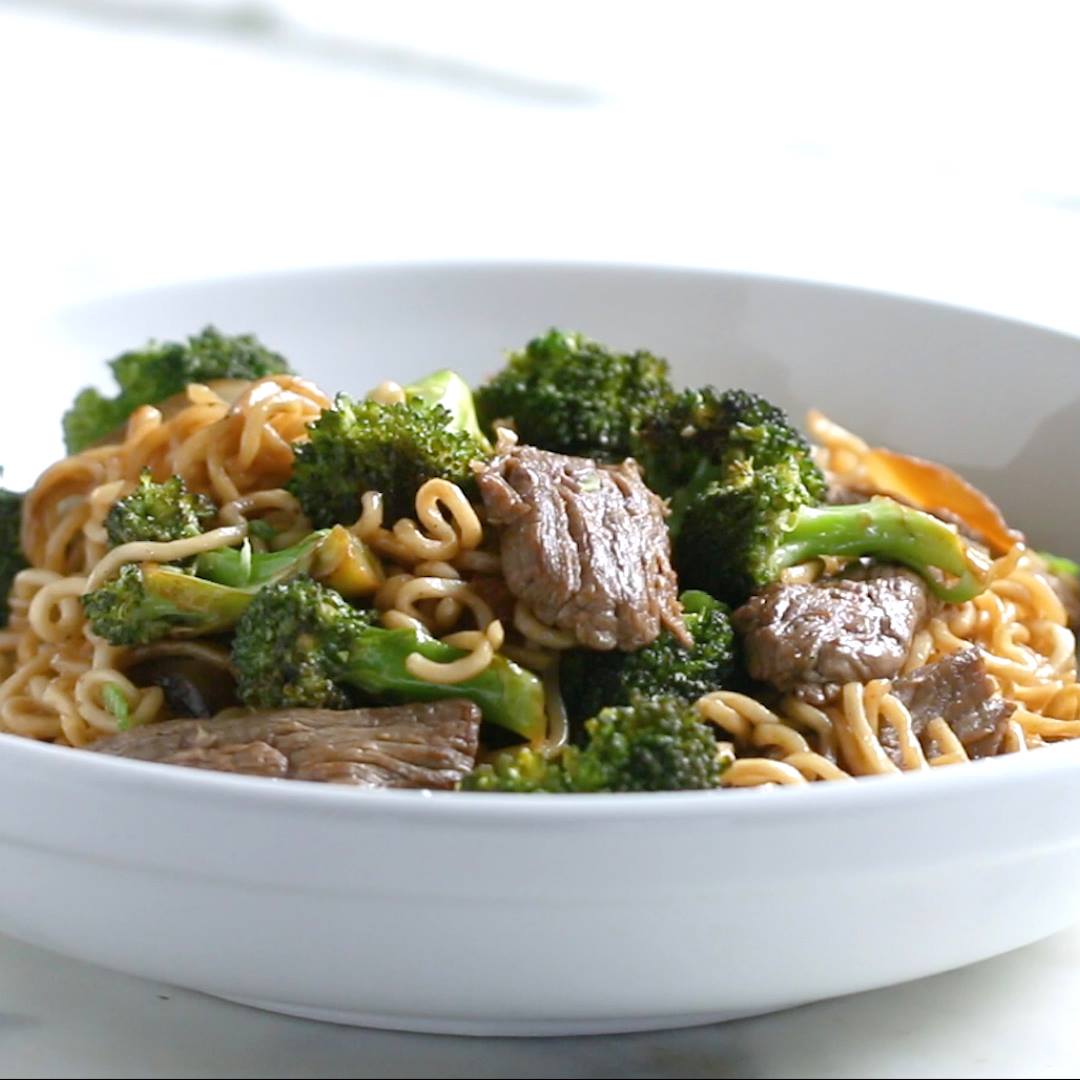 Ingredients
3 oz instant ramen, 3 packages (85 g)
8 cups water, boiling hot (1.9 L)
1 clove garlic, minced
1 teaspoon cornstarch
2 tablespoons sesame oil
1 lime, juiced
¼ cup soy sauce, plus 1 tablespoon (60 mL)
2 cups broccoli floret (300 g)
1 tablespoon olive oil, divided
¾ lb flank steak, thinly sliced (340 g)
½ medium yellow onion, thinly sliced
GARNISHES (OPTIONAL)
2 tablespoons green onion, sliced
2 tablespoons fresh cilantro, chopped
1 ½ teaspoons sesame seeds, toasted
Instructions
Place the ramen noodles in a large bowl (discard the seasoning packets or save for another use) and pour the boiling water over them. Let sit for 6 minutes, stirring every now and then to break up the noodle blocks. Drain and rinse under cold water. Set aside.
In a small bowl, combine the garlic, cornstarch, sesame oil, lime juice, and soy sauce. Stir well, then set aside.
Place the broccoli in a large, microwave-safe bowl and microwave for 1½ minutes, until soft. Set aside.
Heat 1 teaspoon of olive oil in a large, nonstick pan over high heat. Add the steak to the pan and toss with 2 tablespoons of the reserved sauce. Cook until browned, about 2 minutes. Remove from the pan and set aside.
Heat another teaspoon of olive oil in the pan, then add the onion. Cook, stirring often, until browned, about 4 minutes.
Add the broccoli and cook until lightly browned, about 2 minutes. Remove from the pan and set aside.
Add the remaining teaspoon of olive oil to the pan, then add the noodles and the remaining sauce. Cook, stirring constantly, until the noodles soak up the sauce. Return the cooked vegetables and steak to the pan and stir to distribute.
Transfer the noodles to a serving dish and garnish with green onions, cilantro, and sesame seeds, if using.
Enjoy!
Watch the recipe video here:
20-Minute Beef & Broccoli Noodle Stir Fry

Transform instant ramen into a wholesome stir-fry that's the ultimate weeknight dinner! Want more easy back-to-school recipes? Check out Tasty's Back to School Meal Plan here: https://bzfd.it/2ogyGQMGet the recipe: https://tasty.co/recipe/20-minute-beef-and-broccoli-noodle-stir-fry

Posted by Tasty on Thursday, August 30, 2018