La Bomba Nachos Are Totally the Bomb and Has the Gooiest Cheese Ever
Time to reinvent the nacho and you don't think it's possible wait until you see this. Traditionally you bake your chips, but not anymore! First you make your yummy sauce with cheese salsa and beef, cover it all in way too much cheese and broil it! Next is where its gets ridiculous! Pour your cheesy concoction right over the chips and enjoy the new improved nacho!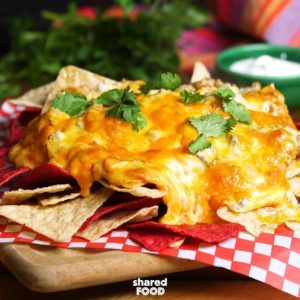 Ingredients
½ pound ground beef
½ cup cheese salsa
½ cup refried beans
2 cups mozzarella cheese, shredded
1 cup cheddar cheese, shredded
1 bag thick corn chips
1 cup sour cream
½ cup cilantro leaves
Instructions
In a oven safe skillet brown ground beef over high heat, drain fat and lower heat to medium.
Add refried beans and cheese salsa, stir until well combined. Top with mozzarella and sprinkle with cheddar.
Place under broiler on the highest oven rack until cheese is bubbly and golden.
Have chips on a plate covered in parchment (less clean up after). Pour beef and cheese mixture directly over chips (careful to keep cheese on the top).
Drizzle with sour cream and sprinkle cilantro leaves over top!
Watch the recipe video here: