Pumpkin Cheesecake Bars
These pumpkin cheesecake bars have the most beautiful layers ?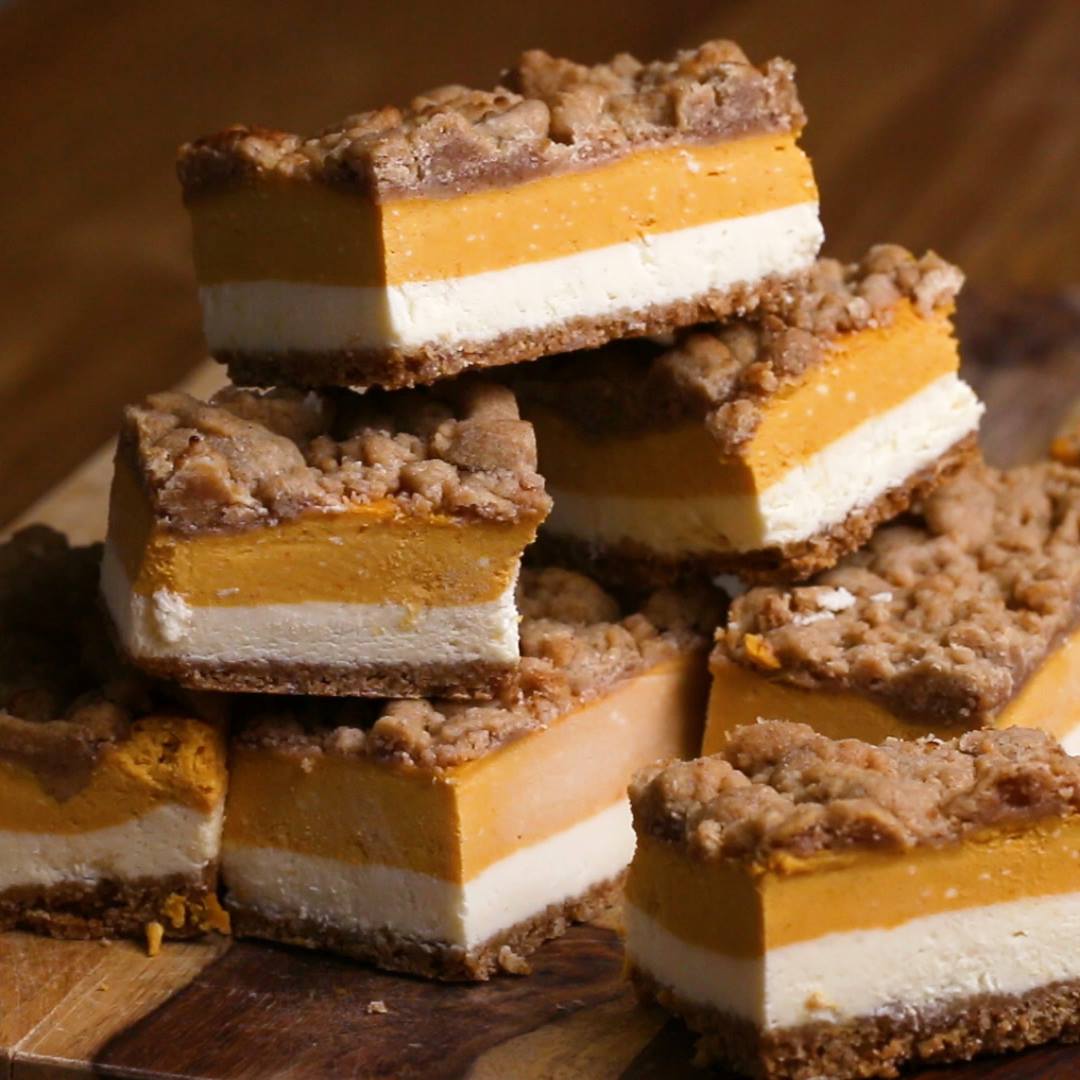 Ingredients
6 tablespoons butter, melted
10 graham crackers, crushed
32 oz cream cheese, at room temperature (905 g)
4 eggs
1 teaspoon vanilla
1 ½ cups sugar (300 g)
15 oz pumpkin puree, 1 can (425 g)
CRUMBLE TOPPING
½ cup butter (115 g)
1 cup flour (125 g)
½ cup brown sugar (110 g)
1 tablespoon ground cinnamon
Instructions
In a medium bowl, combine the melted butter and crushed graham crackers. Stir until the mixture develops a wet sand texture.
Cover the bottom of a greased 9 x13-inch (23x33 cm) baking pan with the graham cracker mixture and spread evenly. Chill.
In a large bowl, combine the cream cheese, eggs, vanilla, and sugar. Stir until mixture is smooth.
Spread half of the cheesecake batter into the chilled baking pan, smoothing the top, and freeze.
Preheat the oven to 325˚F (160˚C).
Add the pumpkin puree to the remaining cheesecake batter and stir until incorporated.
Spoon the pumpkin cheesecake mixture over frozen cheesecake mixture and spread evenly.
Bake for 30 minutes.
Make the crumb topping: in a medium bowl, combine the butter, flour, brown sugar, and cinnamon. Stir until all ingredients are evenly incorporated and the mixture develops a wet sand texture.
Top the cheesecake with the crumble topping and bake for another 25 minutes.
Allow the cheesecake to cool at room temperature. For best results refrigerate overnight once completely cooled, then slice and serve.
Enjoy!
Watch the recipe video here:
These pumpkin cheesecake bars have the most beautiful layers ?FULL RECIPE: https://tasty.co/recipe/pumpkin-cheesecake-bars

Posted by Tasty on Wednesday, October 31, 2018