Steak Fajita Quesadillas
It's sizzling good.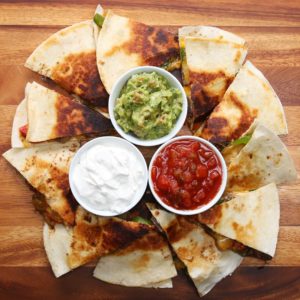 Ingredients
1 pound skirt steak
2 tablespoons olive oil
Salt, to taste
Pepper, to taste
1 teaspoon chili powder
1 teaspoon cumin
1 onion, sliced
4 garlic cloves, sliced
3 bell peppers, sliced
1 jalapeño pepper, sliced
1 tablespoon butter
4 large tortillas
2 cups Mexican cheese blend
Guacamole
Sour cream
Salsa
Instructions
Season skirt steak with salt, pepper, chili powder, and cumin.
Cook on high heat for roughly 3 minutes on each side, for medium-rare.
Let the steak rest for 10 minutes, then slice into strips.
While the steak is resting, sauté onion and garlic until slightly translucent. Add bell peppers and jalapeño, cook slightly, then mix in the steak. Remove from heat and set aside.
In a clean pan, melt butter. Lay the tortilla on the buttered pan, add cheese, fajita mixture, and more cheese, then top with another tortilla and pat it down.
Flip the quesadilla over and cook the other side until it's golden. Remove from pan and cut into quarters or eighths. Repeat these steps with the remaining tortillas.
Serve immediately with sour cream, salsa, and guacamole.
Enjoy!
Watch the recipe video here: