Rigatoni Pizza Pie Is the Perfect Mix of 2 Favortites
Coming from a family with a love of fresh pastas and Italian food, there was definitely no shortage big meals at my house. My grandma always loved making her pasta and dough from scratch and as much as I LOVED the way her cooking tastes, but I have 3 rambunctious boys at home that leave me NO time for that. I need the type of meal that will be quick and easy to make, that will feed 3 plus my dear husband and not leave us with a million dishes to clean up. Yes I say 'us' because if my boys want to eat the food I make, we have a rule they help contrite to dinner time in some way. I have them either clean up or help set the table and prep meals.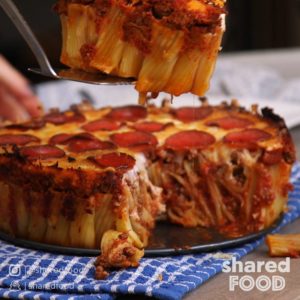 Ingredients
1 tablespoon olive oil
1 lb of ground beef
3 cloves minced garlic
⅛ teaspoon crushed red pepper flakes
1 can of crushed tomatoes
1 lb rigatoni pasta
1 cup freshly grated parmesan
2 cups shredded mozzarella
10-15 slices of pepperoni
Instructions
Preheat oven to 400 degrees.
Cook ground beef until browned all over.
Add in the crushed red pepper flakes and a dash of salt and pepper to taste.
Add crushed tomatoes and simmer on medium heat for roughly 25 minutes.
In a separate pot, cook rigatoni until slightly elante, drain water and allow pasta to cool.
Mix pasta with parmesan cheese and transfer to a 9 inch, greased spring form pan standing all the noodles on their ends.
Pour the meat and tomato mixture atop the noodles, filling the centres when possible. Bake for 15 minutes.
Top with mozzarella cheese and pepperoni and bake another 10 minutes or until cheese is slightly golden.
Let the pan sit for 15 minutes prior to serving.
Watch the recipe video here: