Instant Pot Tagliatelle with Smoked Salmon and Cherry Tomatoes
It's a sophisticated flavor combination that will please the pickiest foodie!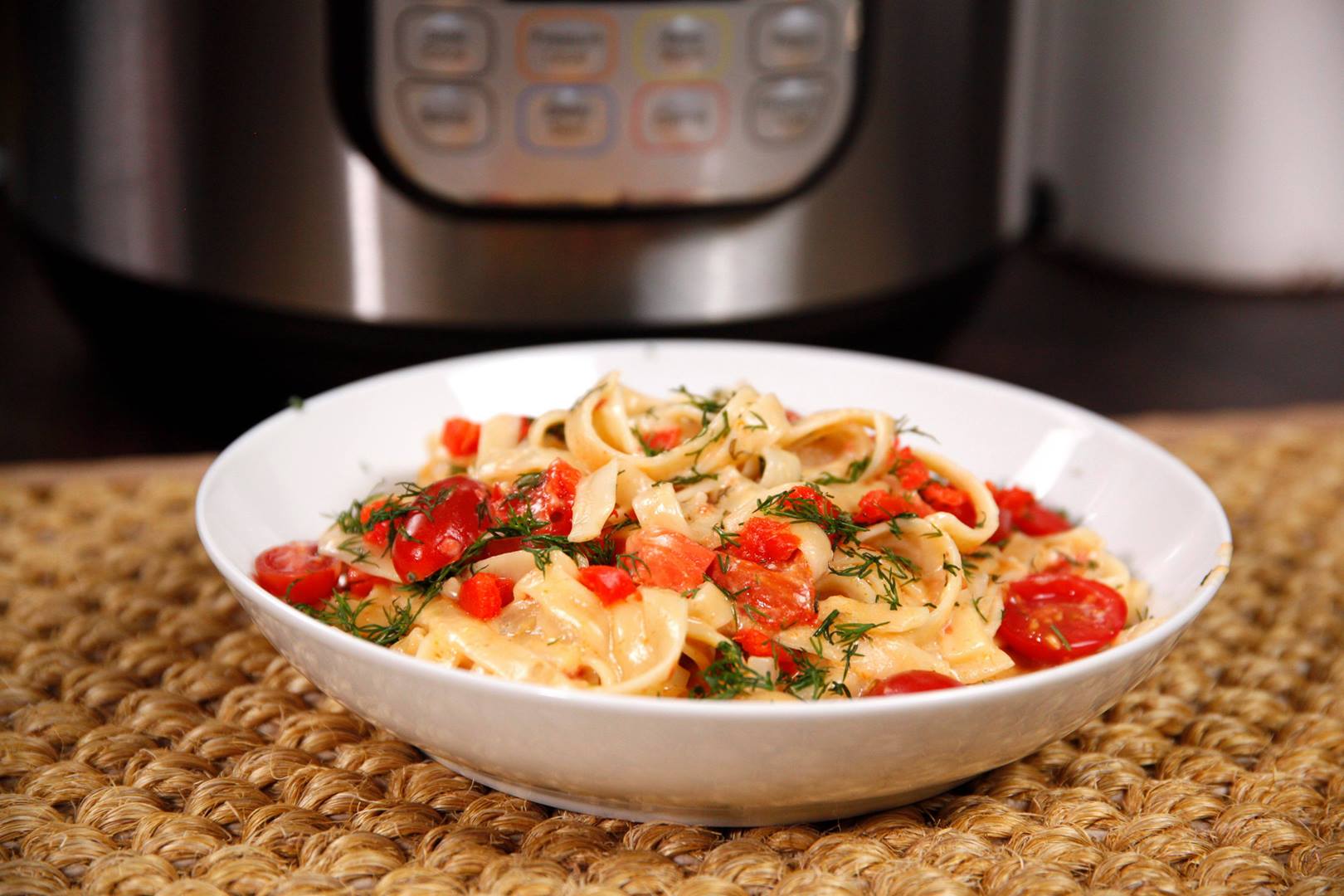 Ingredients
2 tbsp butter
1 small onion, finely diced
½ cup dry white wine
3 cups broth, warmed
1¼ cups heavy cream
1 tsp kosher salt
1 tbsp fresh dill or 1 tsp dried, plus additional for garnish
(or substitute tarragon or parsley)
1 lb dried tagliatelle or fettuccine, broken in half
2 cups cherry or grape tomatoes, halved
4 oz smoked salmon, sliced and cut into bite-sized pieces
Freshly ground pepper
Instructions
Add butter to the Instant Pot. Using the display panel select the SAUTE function.
When butter is melted, add onion to the pot and saute until soft, 3-4 minutes.
Add wine to the pot and deglaze by using a wooden spoon to scrape any brown bits from the bottom of the pot.
Add broth, cream, salt and herbs to the pot and stir to combine.
Carefully fan the pasta in the pot (this helps prevent clumping) and ensure it is completely submerged.
Add the halved cherry tomatoes in a single layer–do not stir.
Turn the pot off by selecting CANCEL, then secure the lid, making sure the vent is closed.
Using the display panel select the MANUAL function*. Use the +/- keys and program the Instant Pot for 5 minutes.
When the time is up, let the pressure naturally release for 5 minutes, then quick-release the remaining pressure.
Gently stir the pasta, breaking up any clumps.
Fold in smoked salmon pieces and serve immediately garnished with freshly ground pepper and additional herbs.
Watch the recipe video here:
It's a sophisticated flavor combination that will please the pickiest foodie!RECIPE: http://chopsecrets.com/instant-pot-tagliatelle-with-smoked-salmon-and-cherry-tomatoes/

Posted by Chop Secrets on Monday, May 27, 2019