Hot Chicken
Hot Chicken recipe.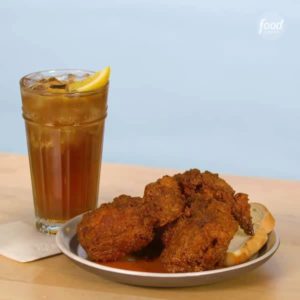 Ingredients
3 pounds skin-on, bone-in chicken parts (breasts halved crosswise)
Kosher salt and freshly ground pepper
3 cups all-purpose flour
1 tablespoon baking powder
1 tablespoon garlic powder
⅓ cup plus ½ cup whole milk
2 large eggs
1 tablespoon hot sauce
½ cup vegetable oil, plus more for frying (about 10 cups)
12 tablespoons unsalted butter, cut into pieces
3 tablespoons cayenne pepper
2 tablespoons packed dark brown sugar
Instructions
Season the chicken generously with salt and pepper. Place on a baking sheet, cover loosely with plastic wrap and refrigerate at least 2 hours and up to 1 day to infuse the flavor.
Whisk the flour, baking powder, 1 teaspoon garlic powder, 1 tablespoon salt and 1½ teaspoons pepper in a large bowl. Drizzle in ⅓ cup milk and whisk to form small shaggy clumps. Whisk the remaining ½ cup milk, the eggs and hot sauce in another large bowl. Coat each piece of chicken in the flour mixture, then dip in the egg mixture, letting the excess drip off. Return the chicken to the flour mixture and turn until well coated. Transfer to a rack set on a baking sheet and let sit, uncovered, to set the coating, 15 minutes.
Meanwhile, fill a large Dutch oven or other heavy pot with 2 to 3 inches of vegetable oil. Heat over medium heat until a deep-fry thermometer registers 350 degrees F. Carefully add 4 to 5 pieces chicken to the hot oil. The oil temperature will drop; adjust the heat as needed to maintain a temperature between 300 degrees F and 325 degrees F. Fry the chicken until golden brown and a thermometer inserted into the breasts registers 160 degrees F and the thighs 170 degrees F, 10 to 14 minutes. Remove with tongs and transfer to a clean rack set on a baking sheet; sprinkle with salt. Let the oil temperature return to 350 degrees F before frying the remaining chicken.
While the last batch of chicken fries, heat ½ cup vegetable oil, the butter, cayenne, brown sugar, remaining 2 teaspoons garlic powder and ½ teaspoon salt in a medium saucepan over medium heat. Cook, stirring frequently, until the butter is melted, 2 to 3 minutes. Dip the fried chicken one piece at a time in the spicy butter, turning with tongs to coat completely; return to the rack. For spicier chicken, top with more of the spicy butter.
Watch the recipe video here: