Pineapple Upside-Down Doughnuts
A cute twist on a classic, these doughnuts are an easy treat to make and share. Their rich buttery caramelized pineapple tops sit nicely on light, single-serving cakes.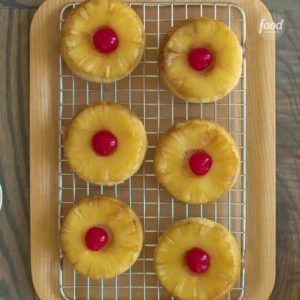 Ingredients
One 20-ounce can pineapple slices, 1 teaspoon juice reserved and the rest drained
1½ sticks (12 tablespoons) unsalted butter
1 cup dark brown sugar
1¾ cups all-purpose flour (see Cook's Note)
1 cup granulated sugar
1 teaspoon baking powder
¾ teaspoon kosher salt
½ teaspoon baking soda
½ cup buttermilk
¼ cup vegetable oil
½ teaspoon vanilla extract
1 large egg
18 maraschino cherries, stems removed
Instructions
Special equipment: a nonstick metal doughnut pan and large piping bag
Preheat the oven to 375 degrees F.
Carefully slice the pineapple rings in half horizontally to make them into thin rings. Set aside.
Melt the butter in a small saucepan, then turn off the heat and whisk in the brown sugar until completely blended. Spoon a tablespoon of the sugar mixture into each well of a nonstick metal doughnut pan, then add a pineapple slice to each, pressing down firmly.
Whisk together the flour, granulated sugar, baking powder, salt and baking soda in a medium bowl. Whisk together the buttermilk, oil, vanilla, egg, reserved pineapple juice and ¼ cup water in a separate medium bowl. Stir the wet ingredients into the dry until fully blended. Pour into a large piping bag or gallon resealable plastic bag, snip the corner to make a ¾-inch opening and pipe some batter into the doughnut pan, filling each well just shy of the top.
Put the doughnut pan on a rimmed baking sheet and bake until a toothpick inserted in the doughnuts comes out clean, about 10 minutes. Cool the doughnuts in the pan 5 minutes, then loosen from the pan with an offset spatula and invert onto a cooling rack. Top each doughnut with a cherry and repeat with the remaining batter two more times.
Cook's Note
When measuring flour, we spoon it into a dry measuring cup and level off excess. (Scooping directly from the bag compacts the flour, resulting in dry baked goods.)
Watch the recipe video here: