Steak with Cream Sauce
Steak & potatoes... and cream sauce. Enough said.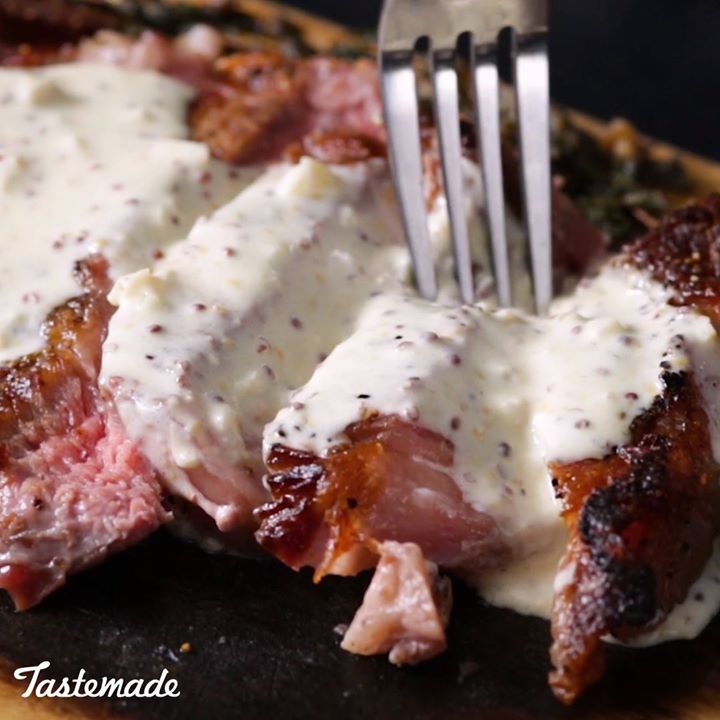 Ingredients
For the steak:
2 (10 oz) ribeye 1 inch thick
sea salt
freshly ground black pepper
3 tablespoons of vegetable oil
2 garlic cloves, whole
4 tablespoons of butter
4 sprigs of thyme
For the sauce:
1 tablespoon of olive oil
3 cloves of garlic, minced
1 cup of heavy cream
2 tablespoons of whole mustard seed
½ cup of grated parmesan cheese
1 tablespoon of butter
freshly ground black pepper
salt
½ lemon, juiced
For the potatoes:
6 small Idaho, boiled
olive oil
salt
pepper
¼ cup of parsley, chopped
½ cup of parmesan, grated
Instructions
Pat dry ribeye with paper towel. Season both sides with salt and pepper.
In the bottom of a heavy saute pan heat 2 tablespoons of vegetable oil on medium-high heat until oil becomes thin and smokes in the pan (about 5 minutes).
Sear steak for 4 minutes on each side. Add garlic clove, thyme, and butter to the pan. Baste steak with butter for 5 minutes to impart flavor. Then remove the steak and allow it to rest.
On a lined baking sheet, smash cooked potatoes, adding salt, pepper, parmesan, and olive oil. Broil for 10 minutes until golden brown.
In a sauce pot on medium heat, simmer the oil and garlic for about 3 minutes. Add heavy cream, and gently bring to a simmer for about 5 minutes. Add whole-seed mustard, parmesan, butter, and lemon juice; season with salt and pepper.
Watch the recipe video here:
Make no misteak – you NEED to make this for dinner this week.Taste for Yourself: taste.md/2vpO1Vz

Posted by Tastemade on Wednesday, April 18, 2018