Chicken Enchilada Nachos
I wanted to make chicken enchiladas but couldn't find a recipe that I had the ingredients for. So, I made this up using what I had on hand. It is mildly spicy. Add more peppers/cayenne or hot sauce to liven it up a bit.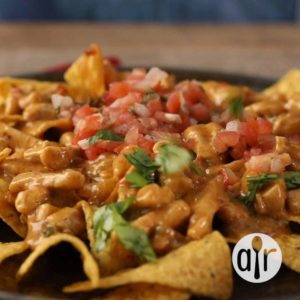 Ingredients
3 tablespoons butter, divided
¼ cup chopped onion
1 jalapeno pepper, seeded and chopped
1 chile pepper, seeded and chopped
2 cloves garlic, chopped
½ cup chicken broth
1 skinless, boneless chicken breast half, cubed
¼ teaspoon chili powder
¼ teaspoon seasoned salt
¼ teaspoon ground cumin
⅛ teaspoon cayenne pepper
1 tablespoon all-purpose flour
2 tablespoons sour cream
½ cup shredded pepperjack cheese
2 cups tortilla chips, or to taste
2 tablespoons pico de gallo, or to taste (optional)
Instructions
Melt 2 tablespoons butter in a skillet over medium-high heat; saute onion, jalapeno pepper, chile pepper, and garlic until fragrant and lightly browned, about 3 minutes. Add chicken broth, chicken, chili powder, seasoned salt, cumin, and cayenne pepper; cook and stir until chicken is no longer pink in the center about 5 minutes.
Melt 1 tablespoon butter in a microwave-safe bowl in the microwave, 15 to 20 seconds. Stir flour into melted butter until smooth.
Mix flour-butter mixture and sour cream into chicken mixture; cook and stir until sauce is thickened, 2 to 4 minutes. Add pepperjack cheese to sauce and stir until melted, 2 to 3 minutes.
Spread chips onto a serving platter; top with sauce and pico de gallo.
Watch the recipe video here: