Creamy Tomato-Vegetable Soup
The amazing thing about this rich, flavor-packed tomato soup? It's made without using a pot. Rather than sautéing aromatics and vegetables in batches over the stove, all the components of your homemade tomato soup are roasted together on a sheet pan for deep, caramelized flavor in the oven. Just toss them in some oil on your baking sheet, pop the pan in the oven, and the majority of your hands-on work is done. Once your veggies are cooked, you simply puree everything in a blender with a bit of cream. You can pour the soup straight from the blender into serving bowls, and then all that's left to do is dive on in. For a peak tomato soup experience, serve with a warm grilled cheese sandwich.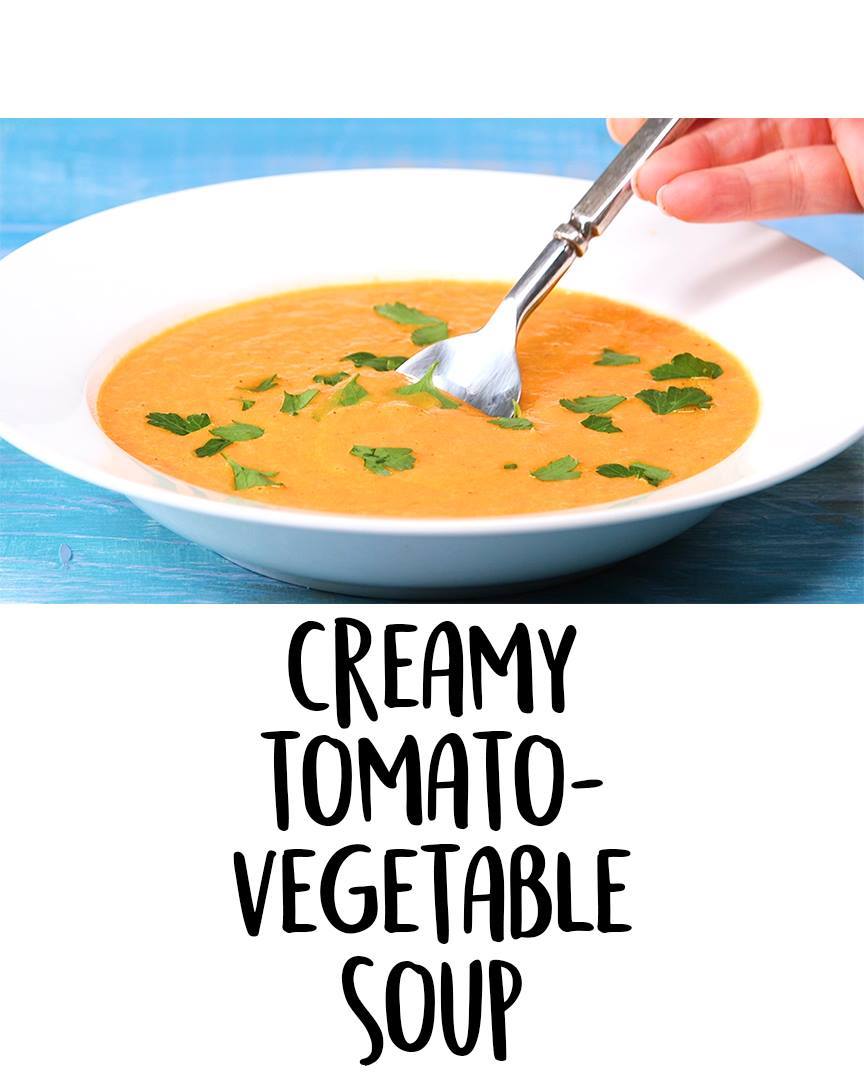 Ingredients
3 large plum tomatoes (about 12 oz.), halved lengthwise
1 cup roughly chopped yellow onion (about 4 oz.)
1 small fennel bulb, trimmed and roughly chopped
1 large carrot, peeled and chopped
4 unpeeled garlic cloves
3 Tbsp. olive oil
2 Tbsp. tomato paste
1 Tbsp. chopped fresh thyme
1 tsp. table salt, divided
½ tsp. black pepper, divided
3 cups chicken stock
⅓ cup heavy cream
2 Tbsp. red wine vinegar
¼ cup torn fresh flat-leaf parsley
Instructions
Preheat oven to 375°F. Place tomatoes (cut side down), onion, fennel, carrot, and garlic cloves on a half-size (18- x 13- x 1-inch) rimmed baking sheet coated with cooking spray. Stir together oil and tomato paste in a small bowl. Add oil mixture, thyme, ½ teaspoon of the salt, and ¼ teaspoon of the pepper to tomato mixture; toss to coat. Bake in preheated oven until vegetables are tender and beginning to brown, about 35 minutes.
Squeeze garlic from cloves into a blender; discard skins. Scrape vegetable mixture and any accumulated pan juices into blender.
Combine stock and cream in a large microwavable bowl; microwave on HIGH until hot, 2 to 3 minutes. Add stock mixture, vinegar, and remaining ½ teaspoon salt and ¼ teaspoon pepper to blender. Remove center piece of blender lid (to allow steam to escape); secure blender lid on blender. Place a clean towel over opening in blender lid (to avoid splatters). Process until very smooth, 30 seconds to 1 minute.
Carefully pour soup into 4 bowls; top servings evenly with parsley.
Watch the recipe video here: