Tagliatelle with Corn and Cherry Tomatoes
Tagliatelle with Corn and Cherry Tomatoes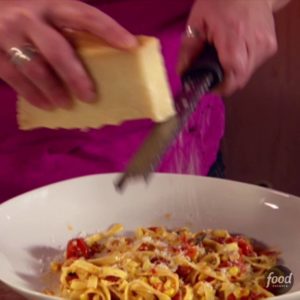 Ingredients
Extra-virgin olive oil
3 cloves garlic, smashed
Pinch crushed red pepper
1 pint grape tomatoes, cut in half
1½ cups chicken or vegetable stock
Kosher salt
2 ears corn, kernels cut off the cob
½ pound fresh tagliatelle
½ cup grated parmigiana
6 basil leaves, chiffonade
Instructions
Bring a large pot of well-salted water to a boil.
Coat a large saute pan with olive oil and add the garlic and the crushed red pepper. Bring the pan to a medium-high heat. When the garlic has turned a lovely golden brown color, remove it and discard. Add the grape tomatoes and half the stock and season with salt. Simmer the pan until the tomatoes have wilted and let off their juices. Add the corn and the remaining stock and simmer until the corn is cooked through.
While the corn is cooking add the pasta to the pot of salty boiling water. Cook the pasta until the water comes back to a rolling boil plus 1 minute. Remove the pasta from the water and add it to the saute pan with the tomatoes and corn. Add about a half a cup of the pasta cooking water and cook until the water has evaporated and the sauce clings to the pasta. Remove the pan from the heat. Toss in the parmigiana, basil and a big drizzle of high quality extra-virgin olive oil. Stir or toss the pasta vigorously. Divide the pasta between 2 serving dishes, sprinkle with a little more grated parmigiana, and serve immediately.
Buonissimo!!
Watch the recipe video here:
Recipe of the Day: Anne Burrell's Tagliatelle with Corn and Cherry Tomatoes??Save the recipe: https://foodtv.com/2XlHSXM!

Posted by Food Network on Friday, July 5, 2019