MEXICAN CAULIFLOWER "RICE"
This Mexican inspired Cauliflower Rice uses finely riced cauliflower, which makes a fantastic low-carb, grain-free stand in for rice.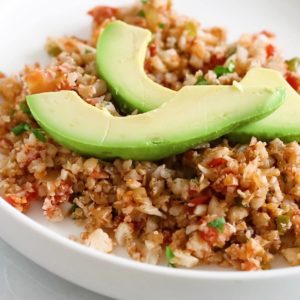 Ingredients
4 cups cauliflower crumbles, the sell this in stop and shop now
1 teaspoon olive oil
½ medium onion, finely diced
2 medium plum tomatoes, small dice
1 jalapeno, seeds and membrane removed, minced
2 garlic cloves, minced
2 tablespoons tomato paste
½ teaspoon cumin
¼ smoked paprika
¼ teaspoon cayenne pepper
1 teaspoon kosher salt
Freshly ground black pepper, to taste
chopped cilantro
Instructions
Heat the oil in a large skillet over medium-high heat. When hot, add the onions, tomatoes and jalapeno and sauté until just tender, about 2-3 minutes. Add the garlic and cauliflower, sauté until the cauliflower is just tender, 2 minutes.
Add the tomato paste, cumin, paprika, cayenne, salt and pepper. Stir to evenly coat the vegetables and cook for 1 minute or until heated through. Add chopped cilantro and serve.
Watch the recipe video here:
Mexican Cauiflower "Rice" is my favorite low-carb alternative to rice. Perfect as a side with tacos, enchiladas, avocado…

Posted by Skinnytaste on Tuesday, June 4, 2019