CHICKEN SHAWARMA KEBAB SALAD
This Mediterranean inspired salad is made with Grilled Chicken Shawarma kebabs served over salad with Feta and Tzatziki. Read more at https://www.skinnytaste.com/chicken-shawarma-salad/#WjHEAKSz7qBmmSh0.99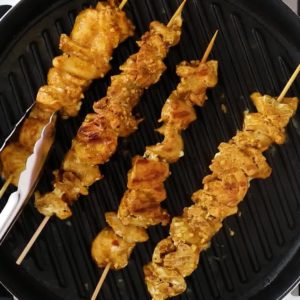 Ingredients
1 pound 2 boneless, skinless chicken thighs
1 tablespoons extra virgin olive oil
Juice from 1 medium lemon
3 garlic cloves, minced
1 teaspoon cumin
1 teaspoon smoked paprika
¼ teaspoon turmeric
¼ teaspoon curry powder
⅛ teaspoon cinnamon
Pinch red pepper flakes
1 teaspoon kosher salt
Freshly ground black pepper, to taste
FOR THE SALAD:
1 tablespoon olive oil
1 tablespoon red wine vinegar
Kosher salt and freshly cracked black pepper
3 Persian cucumbers, chopped
1 cup 145 g cherry tomatoes, halved
¼ red onion, thinly sliced
¼ cup feta, the kind that comes in brine, crumbled
4 cups butter lettuce, torn
1 cup Skinny Tzatziki, from my blog
Instructions
Cut the chicken thighs into 1-inch pieces.
In a medium bowl, combine olive oil and lemon juice. Whisk until combined.
Add the garlic, cumin, paprika, turmeric, curry powder, cinnamon, red pepper, salt and black pepper and whisk again. Pour the marinade over the chicken making sure it evenly coat (careful it will stain your fingers). Refrigerate and marinate for at least 30 minutes, up to overnight.
Preheat an outdoor grill or indoor grill pan to medium-low heat.
Thread the chicken pieces among 4 wooden or metal skewers, discarding the marinade in the bowl.
Grill the chicken, turning the skewers occasionally, until golden brown and cooked through in the center, about 15 to 18 minutes.To make the salad:
For the salad:
In a medium bowl, whisk together the oil and vinegar and season with salt and pepper. Add the cucumbers, cherry tomatoes, and red onion and toss to combine.
Divide the lettuce between 4 bowls, top with tomato salad, feta and grilled chicken. Serve with Tzaziki for dipping.
Watch the recipe video here:
Grilled Chicken Shawarma Skewers with Tzatziki 6 Freestyle Points • 284 Calories https://www.skinnytaste.com/chicken-shawarma-salad/

Posted by Skinnytaste on Tuesday, June 18, 2019