Crab Rangoon Mozzarella Sticks
Standard mozzarella sticks are good. You know what's even better? Crunchy cheese sticks that taste just like your favorite takeout Chinese appetizer.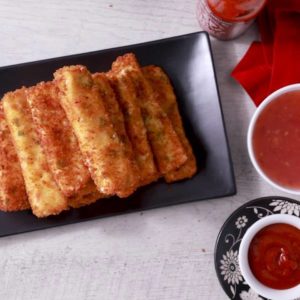 Ingredients
1 8 ounce package cream cheese, softened
8 ounces mozzarella cheese, shredded (2 cups)
1 8 ounce package imitation crabmeat, chopped
4 green onions, thinly sliced (green and white parts) (1/4 cup)
1 tablespoon powdered sugar
½ teaspoon salt
¼ teaspoon garlic powder
½ cup all-purpose flour
2 eggs
2 tablespoons water
1 ¾ cups panko bread crumbs
Vegetable oil for frying
Asian sweet chili sauce
Instructions
Line an 8x8x2-inch baking pan with parchment or waxed paper so the paper hangs over the sides of the pan. In a medium bowl stir together cream cheese, mozzarella cheese, crab meat, green onions, powdered sugar, salt, and garlic powder until combined. Transfer to prepared pan. Spread evenly until smooth and flat. Freeze 30 minutes.
Lift cream cheese mixture from pan using the parchment paper. Cut mixture in half. Cut each half crosswise into 8 sticks (you should have 16 4x1-inch sticks).
Place flour in a shallow dish. In a second shallow dish beat together eggs and water. In a third shallow dish place panko.
Dip cream cheese sticks into the flour, shaking off excess, then dip into the egg mixture. Coat with panko. Place breaded sticks on a baking sheet and freeze 15 minutes.
Meanwhile, preheat oven to 200°F. In a medium saucepan heat 1½-inches of oil to 375°F. Fry 3 to 4 sticks at a time until golden brown, about 1 minute. Drain on paper towels. Keep fried sticks warm on a baking sheet in the oven while frying remaining sticks. Keep uncooked sticks in the freezer until ready to fry. Let oil return to temperature between batches. Serve with Asian sweet chili sauce.
Watch the recipe video here: