Cordon Bleu Chicken Rolls
This is the best Chicken Cordon Bleu recipe! Chicken stuffed with ham and Swiss cheese. I hope you enjoy it as much as I have.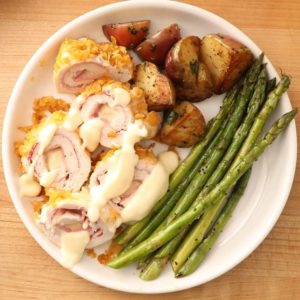 Ingredients
8 skinless, boneless chicken breasts
8 slices cooked ham
4 slices Swiss cheese, cut into 1 inch pieces
salt and pepper to taste
1 teaspoon dried thyme
¼ cup melted butte
r1/2 cup cornflakes cereal crumbs
1 (10.75 ounce) can condensed cream of chicken soup
½ cup sour cream1 teaspoon lemon juice
Instructions
Preheat oven to 400 degrees F (200 degrees C).
Place each chicken breast half between sheets of plastic wrap and pound with a meat mallet to about ⅛ inch thickness. Place a finger of cheese on each ham slice and sprinkle lightly with thyme and salt and pepper to taste. Roll up seasoned ham and cheese 'jellyroll-style', then roll each chicken breast with ham and cheese inside. Tuck in ends and fasten with toothpicks.
Place melted butter in a small bowl and place cereal crumbs in a shallow dish or bowl. Dip each chicken roll in butter or margarine, then roll in crumbs, turning to coat thoroughly. Place coated rolls in a lightly greased 9x13 inch baking dish.
Bake at 400 degrees F (200 degrees C) for about 40 minutes or until chicken is golden brown and juices run clear. Serve with cordon bleu sauce, if desired.
To Make Cordon Bleu Sauce: In a small saucepan mix together the soup, sour cream and lemon juice. Heat over low heat, stirring occasionally, and serve hot over chicken rolls. Makes about 2 cups; 8 servings of ¼ cup each.
Watch the recipe video here: