Pork Chops in Sherry-Mushroom Gravy
Comfort food at its best! Quick, easy, and delicious pork chops that are perfect for a weeknight supper.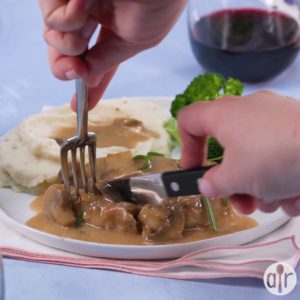 Ingredients
2 tablespoons vegetable oil
4 (1-inch thick) boneless pork chops
salt and ground black pepper to taste
¼ cup all-purpose flour
2 tablespoons butter
1 (8 ounce) package sliced fresh mushrooms
1 (10.75 ounce) can cream of mushroom soup
½ cup dry cooking sherry
4 ounces shredded mozzarella cheese (optional)
Instructions
Preheat the oven to 350 degrees F (175 degrees C).
Heat oil in a frying pan over medium-high heat. Season pork chops with salt and pepper and coat in flour. Brown pork chops on both sides, 3 to 5 minutes, and transfer to a baking dish.
Melt butter in the same frying pan and cook mushrooms until tender, scraping the bottom of the pan, 5 to 7 minutes. Season with salt and pepper. Add mushroom soup and sherry; stir gravy until well incorporated.
Pour gravy over pork chops in the baking dish. Cover with aluminum foil.
Bake in the preheated oven until chops are no longer pink in the center and an instant-read thermometer inserted into the center reads 145 degrees F (63 degrees C), about 35 minutes. Remove aluminum foil, stir gravy, and top pork chops with mozzarella cheese.
Return to the hot oven and bake until cheese is melted, 3 to 5 minutes more.
Watch the recipe video here: