Jalapeño Cheddar Chicken
When you find a creamy, savory dish like this one, you keep it in your monthly rotation and make it for as many as your friends as possible. It's THAT delicious! Not to mention how simple it is! And you only have to clean one dish when you are done the cooking! Does it get any better than this?!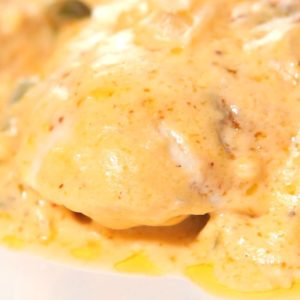 Ingredients
4 tsp Olive oil, divided
3 Boneless, skinless chicken breasts
½ tsp Kosher salt
½ tsp Black pepper
¾ tsp Chili powder
¾ tsp Cumin
½ CUP Onion, finely diced
3 medium Jalapeños, seeds and membranes removed, finely diced
2 Cloves garlic, minced
½ CUP Chicken broth
4oz. Cream cheese
1½ CUP Shredded cheddar cheese
Instructions
Heat 2 teaspoons of the olive oil in a large skillet over medium-high heat.
Season chicken breasts with the salt, pepper, chili powder and cumin
Add to pan and sear for 4 minutes on each side, until golden brown.
Remove chicken breasts from the skillet to a plate and cover with aluminum foil to keep warm. (They will finish cooking later.)
Reduce heat to medium and add remaining two teaspoons olive oil to pan.
Add diced onion and jalapeño and cook, stirring occasionally, for 4-5 minutes, until softened.
Add garlic and saute for 30 more seconds.
Add chicken broth and cream cheese and stir until melted.
Stir in shredded cheddar cheese and stir until melted and mixture is simmering.
Return the chicken breasts to the skillet, along with any accumulated juices, and turn to coat in the cheese sauce.
Cover the pan, reduce the heat to medium-low and cook for 7-9 minutes, until chicken is cooked through. (It will depend on how thick your chicken breasts are.)
Serve chicken breasts with extra sauce spooned over the top.
Enjoy!
Watch the recipe video here: