Instant Pot Easy Chicken Cordon Bleu
This family-pleasing dinner is ready in only 30 minutes!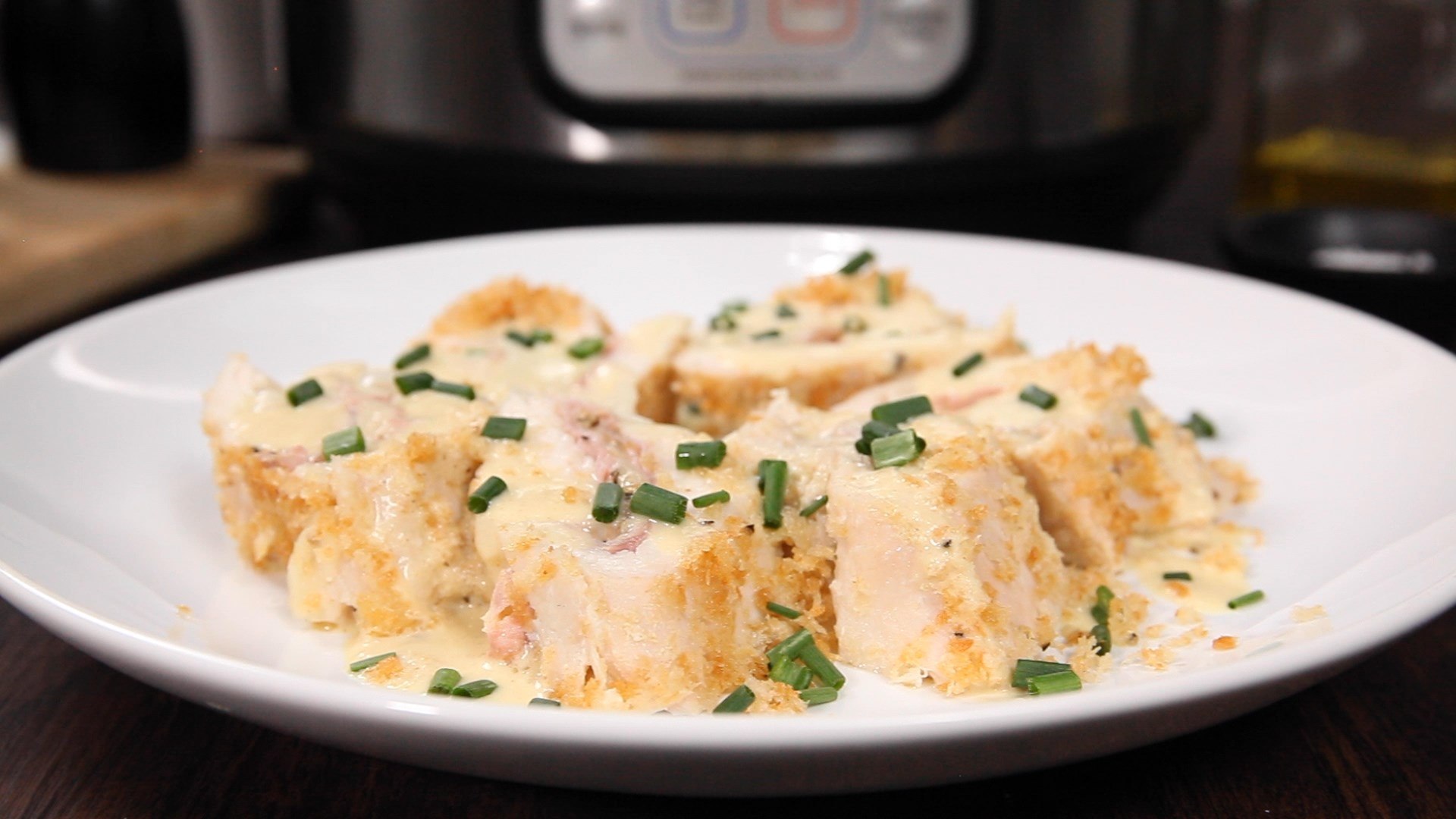 Ingredients
½ cup chicken broth
2 lbs chicken breasts (about 4)
1 tbsp butter, melted
2 oz thinly sliced ham
2 oz swiss or provolone cheese
Kosher salt
Pepper
1 tbsp olive oil
1 tbsp butter
1 cup panko bread crumbs
2 tbsp dijon mustard
2 tbsp heavy cream
Snipped chives, for garnish
Instructions
Pour chicken broth into the Instant Pot.
Place chicken breasts, smooth side down, between two sheets of plastic wrap and pound to ¼″ thickness.
Brush melted butter evenly over chicken breasts, followed by ham and cheese. Sprinkle with salt and pepper to taste.
Roll up each chicken breast starting at one of the short ends. Place each chicken bundle seam side down in the Instant Pot, then secure the lid, making sure the vent is closed.
Using the display panel select the MANUAL function*. Use the +/- keys and program the Instant Pot for 5 minutes.
When the time is up, let the pressure naturally release for 5 minutes, then quick-release the remaining pressure.
Meanwhile, heat olive oil and butter in a nonstick skillet. When butter is melted, add panko, ¼ tsp salt and several grinds of pepper.
Cook, stirring constantly, until crumbs turn golden brown, then remove from heat immediately and continue to stir for 30 seconds to avoid burning.
In a small bowl, combine dijon and cream. Set aside.
When cooking cycle is complete, carefully remove the roll-ups from the pot, dip each in the skillet to coat the bottom with toasted crumbs, then place on individual serving plates.
Sprinkle remaining toasted crumbs over the top of the roll-ups, drizzle with dijon and top with snipped chives.
Watch the recipe video here:
This family-pleasing dinner is ready in only 30 minutes!RECIPE: http://chopsecrets.com/instant-pot-easy-chicken-cordon-bleu/

Posted by Chop Secrets on Friday, June 21, 2019