Spicy Chicken Pizza
Spicy Chicken Pizza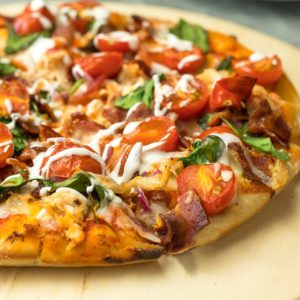 Ingredients
¾ cup pizza sauce (180 mL)
1 ½ tablespoons Frank's Red Hot Original, plus more for drizzling
1 tablespoon olive oil
1 ½ teaspoons cornmeal
1 lb pizza dough (455 g)
1 ½ cups shredded mozzarella cheese (150 g)
1 ½ cups shredded chicken (190 g)
3 pieces bacon, torn into ½-inch (1¼ cm) pieces
1 small handful fresh baby spinach
¾ cup cherry tomato, halved (150 g)
2 tablespoons red onion, minced
ranch dressing, for drizzling
Instructions
Preheat oven to 450ºF (230ºC).
In a small bowl, whisk together pizza sauce with Frank's Red Hot Original. Set aside.
Drizzle a 12-inch (30 ½ cm) cast iron skillet with olive oil. Use your hand or a paper towel to evenly coat the pan with oil. Sprinkle pan with cornmeal.
Press pizza dough into the pan so that it covers the whole surface evenly.
Spread spicy pizza sauce on the dough. Top with mozzarella, chicken, and bacon. Scatter spinach, cherry tomatoes, and red onion on top.
Bake pizza for 14–16 minutes until edges are browned and crisp.
Remove from oven and let cool for 5 minutes, then drizzle with Frank's Red Hot Original and ranch dressing. Slice and serve.
Enjoy!
Watch the recipe video here:
Surprise your friends or family with this delicious spicy chicken pizza.Get the recipe: https://tasty.co/recipe/spicy-chicken-pizza

Posted by Tasty on Friday, June 21, 2019