Mini Pizza Stars
Personal sized pizza stars are super fun and easy to make with ready made pizza dough. Fill them with your favourite pizza toppings for a twist!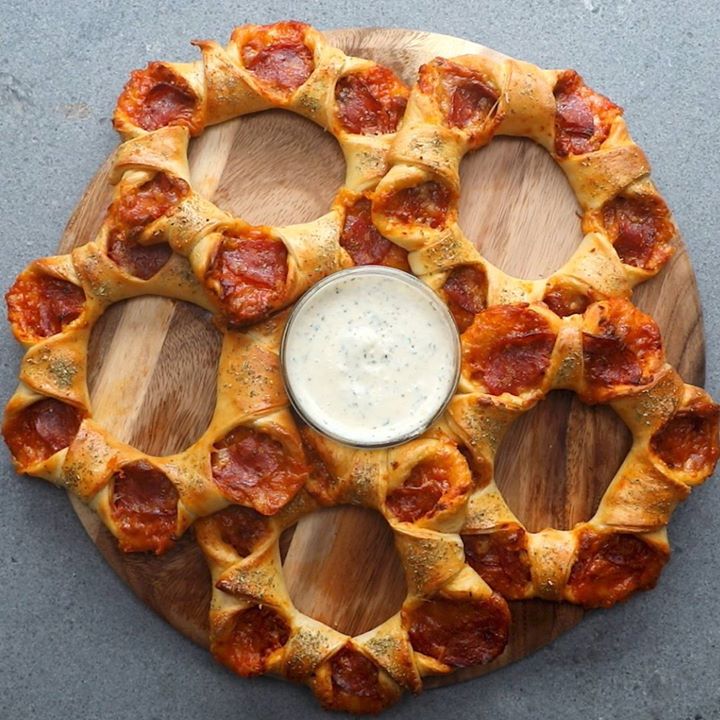 Ingredients
750g pizza dough, divided into 6
½ cup pizza sauce
1 cup grated mozzarella cheese
Pepperoni slices
Egg Wash
Dried Oregano
⅔ cup mayonnaise
3 tbsp milk
2 tbsp lemon juice
1 tbsp finely choppe parsley
2 tsp chopped garlic
1 tsp onion flakes
½ tsp pepper
½ tsp salt
Instructions
Pre-heat oven to 200ºC. Roll out each dough ball into about 8" flat.
Make 3 cuts with a pizza cutter in the centre of the dough- this will create a star shape that will give you 6 triangles of dough to fold outwards towards the edge.
Lay down some pizza sauce, leaving a decent circle of dough in the middle untouched (where your slits are). Add mozzarella on top of this, followed by slices of pepperoni. Brush egg wash on the triangles. Grab one of the triangles from the centre and overlap it with the corresponding outside edge of the pizza. Continue until you have completed the pizza. Place on a parchment lined baking sheet.
Brush the dough with more egg wash and sprinkle with oregano. Bake for 20 minutes until cheese bubbling and dough is golden brown.
Enjoy!
Watch the recipe video here:
Mini Pizza Stars

Posted by Twisted on Sunday, February 25, 2018