Cauliflower Pizza
I am a big fan of pizza and could probably eat pizza (or tacos) pretty much everyday of the week. Although that sounds delicious, it is probably not the most healthy of diets. Enter caulfilower pizza. When I want pizza but want one that is a little more nutritious, this is what I turn to. Although it is not exactly like pizza dough, this cauliflower pizza is pretty darn close. Feel free to put all of your favorite toppings on the crust. I like old school pizza sauce, cheese and basil but the sky is the limit in what you can top with pizza crust.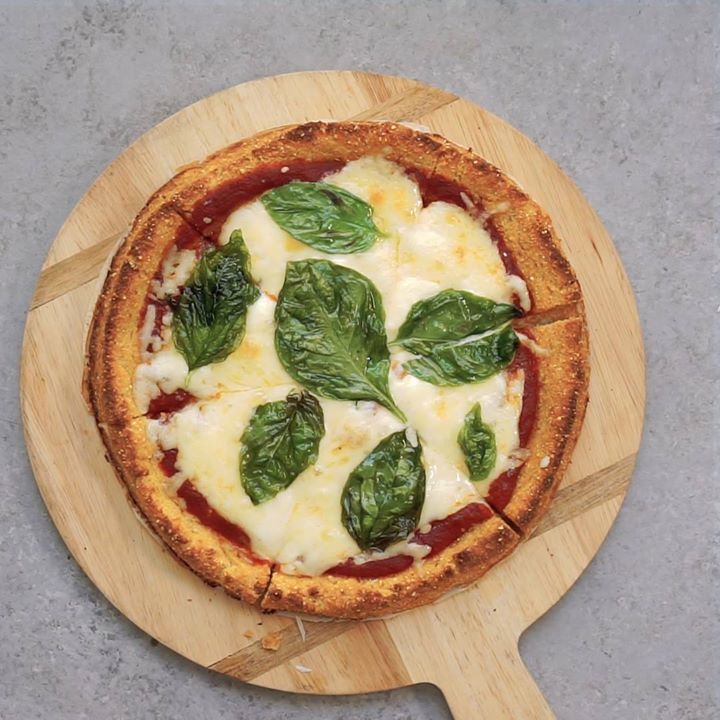 Ingredients
1 medium sized cauliflower, stem removed and cut into florets
¾ cup Parmesan cheese, grated
1 egg, beaten
1 tsp. salt
1 cup almond flour
1 tsp. dried oregano
Favorite pizza toppings such as marinara sauce, mozzarella, sausage and basil
Instructions
Pre-heat oven to 425°F. Line a sheet tray with parchment paper.
Using a food processor, pulse the caulfiower until it is well blended and the pieces are about the size of rice. You may have to do this in batches.
Place processed cauliflower in a microwave safe bowl and microwave on high for about 3 minutes or until the cauliflower has started to steam. Remove and carefully place cauliflower on a clean kitchen towel (or nut bag) and squeeze as much water out as possible. Discard the water and place the cauliflower in a large bowl. Add Parmesean cheese, egg, salt, almond flour, and oregano. Using your hands shape the cauliflower into a round disk about ½" thick and 10" in diameter. Bake pizza crust for about 25 to 30 minutes or until the crust begins to brown. Remove and add your favorite toppings. Return the pizza to the oven and continue to bake until the cheese is melted, about 10 minutes.
Let cool for at least 5 minutes before cutting.
Makes 2 servings.
Watch the recipe video here:
This cauliflower pizza crust from Amanda's Kitchen is a great low-carb option! ✨Get the recipe here: http://bit.ly/2gDXMWiGet the app and discover more recipes : https://tstyapp.com/download

Posted by Tasty on Sunday, October 22, 2017