Zucchini Pizza Crust
Have your pizza and your diet too.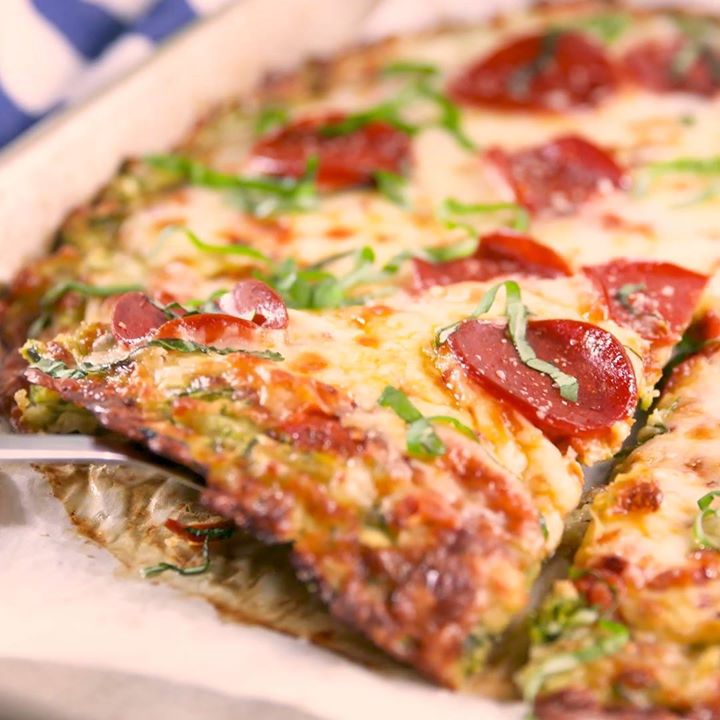 Ingredients
3 medium zucchini, or about 4 cups grated zucchini
1 large egg
2 cloves garlic, minced
½ tsp. dried oregano
3 c. shredded mozzarella, divided
½ c. grated Parmesan
¼ c. cornstarch
kosher salt
Freshly ground black pepper
¼ c. pizza sauce
¼ c. pepperoni
Pinch red pepper flakes, for garnish
Basil, for garnish
Instructions
Preheat oven to 425º and line a baking sheet with parchment. On a box grater or in a food processor, grate zucchini. Using cheesecloth or a dish towel, wring excess moisture out of zucchini.
Transfer zucchini to a large bowl with egg, garlic, oregano, 1 cup mozzarella, Parmesan, and cornstarch and season with salt and pepper. Stir until completely combined.
Transfer "dough" to prepared baking sheet and pat into a crust. Bake until golden and dried out, 25 minutes.
Spread pizza sauce over crust then top with remaining mozzarella and pepperoni. Bake until cheese is melted and crust is crispy, about 10 minutes more. Garnish with red pepper flakes and basil.
Watch the recipe video here: