Deep Fried Burger Fries
Burger and fries are so last century. The future belongs to these incredibly crisp deep fried burger fries.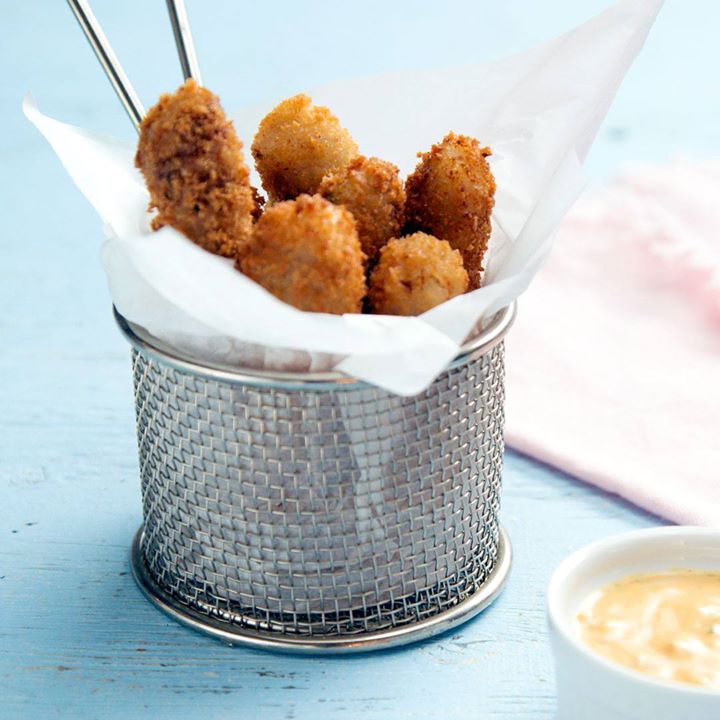 Ingredients
1 pound ground beef
½ cup chopped pickles
½ cup shredded sharp cheddar cheese
Salt and pepper
1½ cups buttermilk
½ cup all-purpose flour
½ cup cornstarch
2 cups panko
For the sauce:
⅓ cup ketchup
⅓ cup mayonnaise
2 tablespoons mustard
1 to 2 tablespoons minced shallot
3 tablespoons chopped fresh dill
Salt and pepper to taste
Instructions
In a deep pan, heat oil to 350 degrees F.
In a large mixing bowl, add beef, cheese, pickles, salt and pepper. Mix well to combine. Using your hands, form onto a skewer approximately 2 to 3 inches long. Refrigerate for 10 to 20 minutes.
In another large mixing bowl, whisk together buttermilk, flour, cornstarch, and season with salt and pepper. Dip the cold beef sticks into the batter then roll in the panko.
Prior to frying, remove the stick. Fry in batches until golden and crispy.
For the aioli, mix all ingredients in a bowl and stir.
Serve fries with aioli and enjoy.
Watch the recipe video here:
Burger and fries are so last century. THESE are the future.Full Recipe: taste.md/2ufz9b0

Posted by Tastemade on Monday, February 12, 2018