CREAMY LASAGNA FRIES
Just look at these guys. They are everything and more - lasagna and fries! Honestly, have you ever seen a more enticing platter? Don't you just want to dive in and swim there amongst the mozzarella, drowning in delicious ragu? Well now you can, if you follow our simple and informative video. Please thank us in the comments section.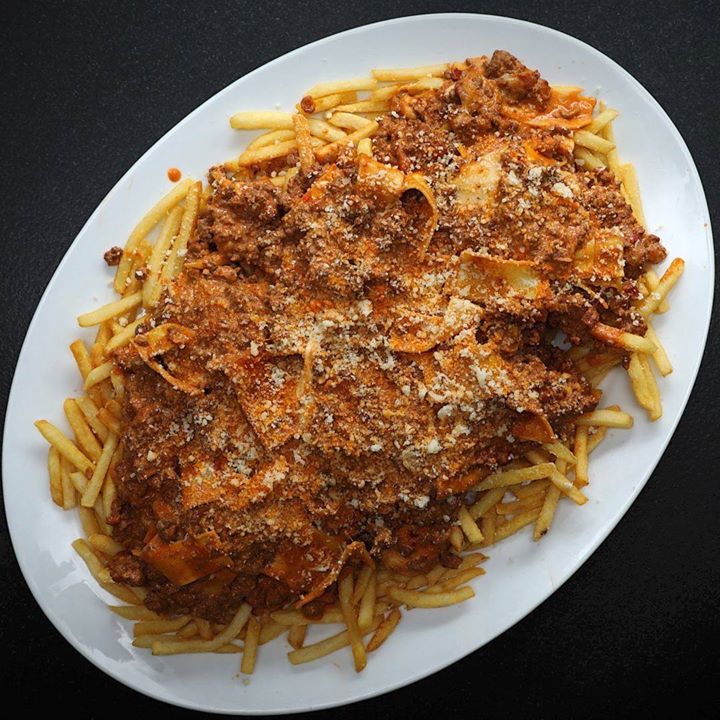 Ingredients
1 tbsp olive oil
1 cup / 2oog pancetta
3 cloves garlic, finely diced
1 onion, finely diced
2.2 lb / 1 kg beef mince
1 cup / 250g passata
1 tbsp tomato puree
½ cup /150ml beef stock
½ cup / 150ml wine
1 cup / 250ml double cream
Around 4 sheets lasagna, chopped into squares
1 cup grated parmesan
1 cup torn mozzarella
Lotsa lotsa fries
Instructions
Fry the pancetta in the olive oil until nicely browned then add the garlic and fry for a minute.
Add the onion and cook for another 3 minutes until nice and soft, then add the beef mince and cook until it's brown all over, breaking it up in the pan with a wooden spoon.
Pour in the tomatoes, tomato puree, stock and red wine and give everything a stir, then leave to bubble away for around an hour.
Pour in the cream, the chopped up pasta, the parmesan and the mozzarella and give everything a stir.
Pour over the fries and sprinkle with parmesan. Eat with mates (not alone you monster).
Watch the recipe video here:
Creamy Lasagna Fries

Posted by Twisted on Monday, February 12, 2018