Croque Monsieur Croissant Lasagna
CROQUE MONSIEUR CROISSANT LASAGNA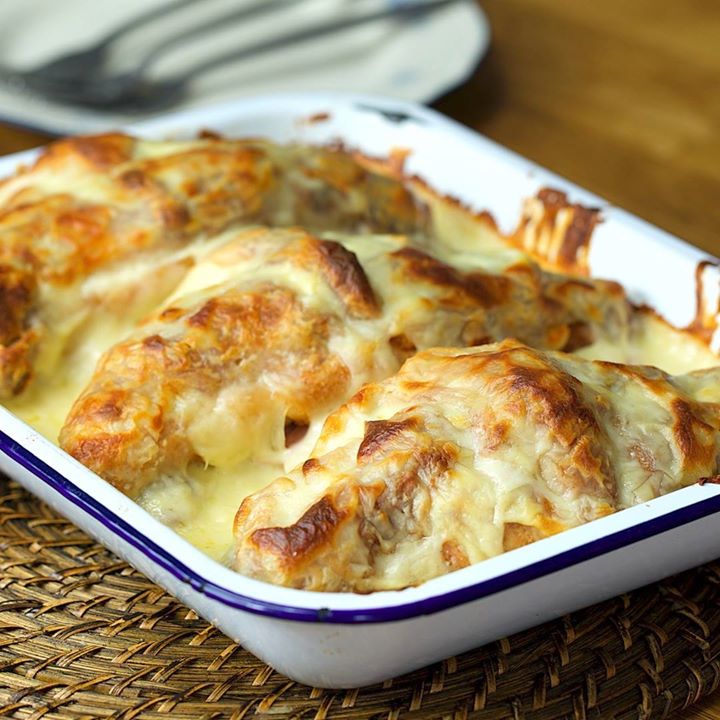 Ingredients
6 croissants
3 tbsp dijon mustard
18 slices emmental
12 slices ham
50g butter
50g flour
700ml milk
1 tbsp salt
1 cup grated emmental
Instructions
Preheat the oven to 180°C/360°F.
Cut each croissant in half lengthways and spread the bottom with dijon mustard. Layer cheese and ham and place the top layer of croissant on top.
Place a layer of three croissants in a greased baking tray and top with more cheese and ham, then add the final three with another layer of cheese on top.
In a sauce pan heat the butter until its foaming and stir in the flour. Cook for a minute or so until it smells biscuity, then gradually stir in the butter to make a smooth sauce. Stir in the salt and cheese and pour directly over the croissants and bake for around 30 minutes, until bubbling and golden on top.
Serve straight away, wear a beret.
Watch the recipe video here: