Crock-Pot Lasagna
A classic lasagna made easy.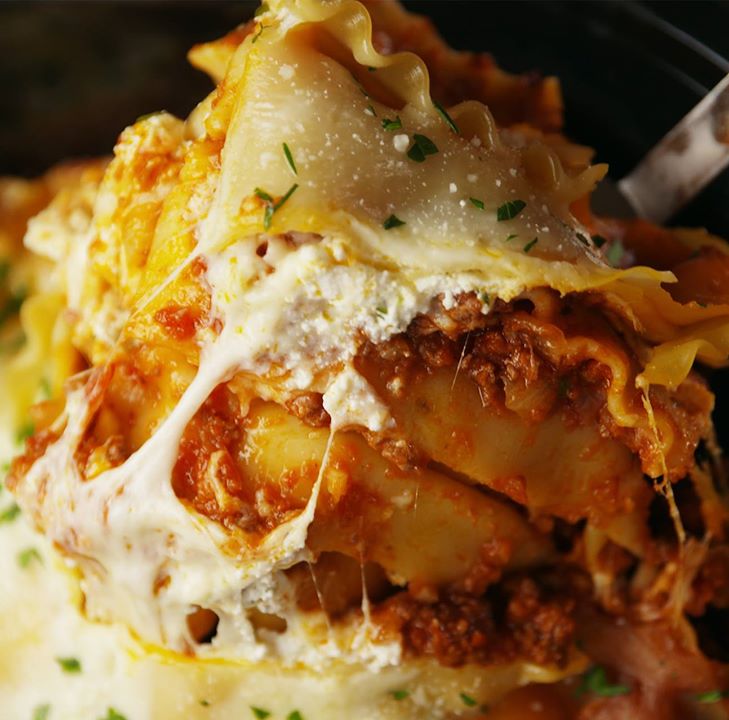 Ingredients
1 box lasagna noodles, unboiled
1 tbsp. olive oil
½ onion, chopped
2 garlic cloves, minced
1 lb. ground beef
1 tsp. Italian seasoning
3½ c. marinara sauce, divided
kosher salt
Freshly ground black pepper
16 oz. whole milk ricotta
¼ c. freshly grated Parmesan, plus more for garnish
¼ c. chopped parsley, plus more for garnish
4½ c. shredded mozzarella
Instructions
In a large skillet over medium heat, heat oil. Add onions and cook until translucent, 3-4 minutes. Add garlic and cook until fragrant, 1 minute. Add beef and season with salt, pepper and Italian seasoning. Cook until no pink remains and add 3 cups of the marinara, stirring to combine and cooking 2-3 minutes more.
In a large bowl, combine ricotta with parmesan and parsley. Season with salt and pepper and stir until fully incorporated.
Grease the bowl of your slow cooker with a nonstick cooking spray. Using the remaining marinara, spread a thin layer on the bottom of the crock pot. Next add a layer of noodles (you'll have to break some to make them fit) a layer of meat mixture, a layer of mozzarella, and a layer of ricotta. Repeat until all ingredients are used up, ending with mozzarella. Cover and cook on low for 4 to 5 hours.
Garnish with more parmesan and parsley and serve.
Watch the recipe video here:
Crock-Pot Lasagna is so easy you'll want it for dinner every night.Full recipe: http://dlsh.it/Yyrx8KU

Posted by Delish on Thursday, January 18, 2018