Mac & Cheeseburger Lasagna
It's all about the hybrids these days - Alien Vs Predator, Batman Vs Superman... Now meet the culinary version. Mac & Cheeseburger Lasagna. Gooey, stringy mac and cheese and delicious burger mince in one smooth package. You saw it here first.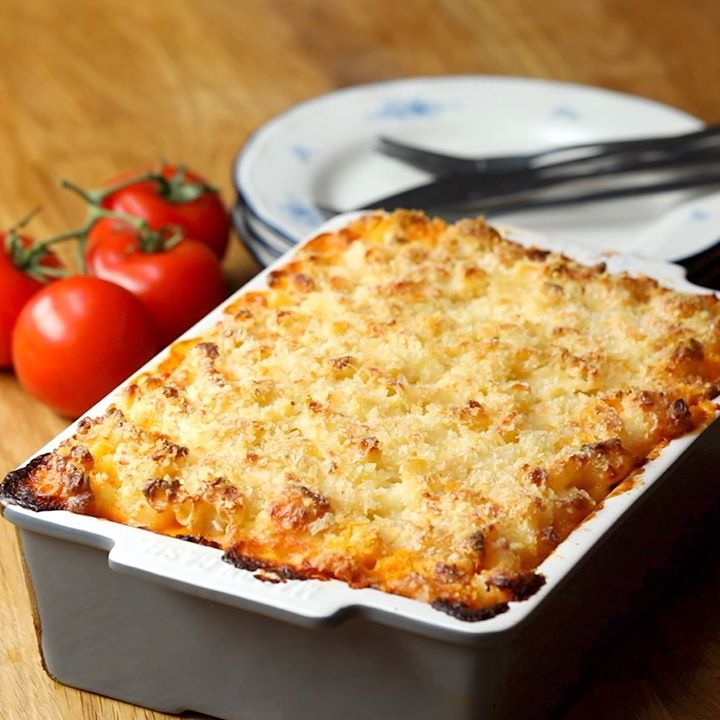 Ingredients
1 tbsp oil
1 onion, diced
750g /3/4 lb beef mince
1 tbsp salt
1 tsp white pepper
1 tsp garlic powder
125g / ½ cup ketchup
50g / 2 tbsp butter
50g / 2 tbsp flour
750 ml / 3 cups milk
300g / 2 cups grated mozzarella
300g / 2 cups grated emmental
4 tbsp parmesan
500g macaroni, cooked
American cheese
3 tbsp panko breadcrumbs
Instructions
Preheat the oven to 180°C/360°F.
Gently fry the onion in a little oil until soft, then whack the heat up and brown the beef mince. Add the seasonings and cook for a little bit to get rid of some of the moisture, then stir in the ketchup and set aside.
Heat the butter until foaming and whisk in the flour. Allow it to cook through and begin to smell a bit biscuity then pour in the milk gradually, whisking vigorously to make a smooth paste into which you gradually incorporate into more milk.
Take it off the heat and allow it to cool, then stir in the cheeses and the macaroni.
Spread a thin layer of the macaroni cheese on the bottom of the lasagna dish then smooth it flat. Top with a layer of American cheese then a layer of the beef mixture and more cheese. Repeat up to the top of the dish, finishing with mac & cheese and a sprinkling of breadcrumbs.
Bake for around 40 mins until the crumbs are golden and the whole dish is bubbling.
Watch the recipe video here:
Mac & Cheeseburger Lasagna

Posted by Twisted on Wednesday, January 31, 2018