Lasagna Party Ring
Move over, chips and salsa.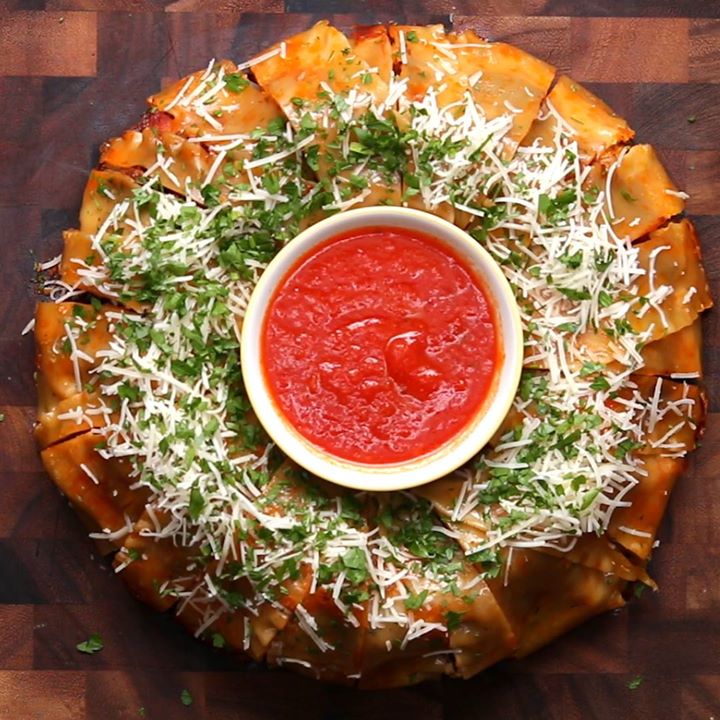 Ingredients
3 tablespoons canola oil
½ onion, diced
4 cloves garlic, minced
¾ pound ground beef, 80:20 ratio of lean to fat
¾ pound ground sweet Italian sausage
1 teaspoon salt
1 teaspoon black pepper
28 ounces tomato sauce
15 ounces ricotta
½ cup shredded Parmesan
¼ cup basil,chopped
1 egg
18-20 cooked lasagna noodles
2 cups shredded mozzarella
½ cup marinara sauce, to serve
Instructions
Preheat oven to 375°F (190°C).
In a large pot over high heat, add oil, onions, and garlic, and cook until they begin to brown, stirring occasionally.
Add the beef, sausage, salt, and pepper, cooking until all of the moisture has evaporated and the meat is starting to brown on the edges, breaking the meat up as you stir.
Add the tomato sauce, then reduce heat to a simmer, cooking the sauce down until the mixture becomes extremely thick, almost paste-like. Remove from heat and set aside.
In a bowl, combine the ricotta, Parmesan, basil, and egg, mixing until smooth. Set aside.
Slice 6 of the lasagna noodles in half. These will serve as the layers in between the meat and the cheese mixture.
Spray a bundt pan with nonstick cooking spray, then lay about 10-12 noodles into the bottom of the pan, fanning them out in an overlapping pattern. One end of the noodles should be just as tall as the center of the pan, and the other end of the noodles should hang over the sides of the pan.
Sprinkle half of the mozzarella into the bottom of the pan on top of the noodles. This will help bind the noodles together when cooked.
Spread half of the meat mixture evenly in a ring over the top of the mozzarella, then lay half of the cut noodle pieces over the top to create a noodle layer. 10. Spread all of the ricotta mixture over the noodles in an even ring, then layer with the rest of the noodles and the rest of the meat sauce.
Fold the edges of the lasagna noodles hanging over the sides of the pan back towards the center, creating another overlapping pattern.
Sprinkle the rest of the mozzarella evenly on top.
Bake for approximately 45 minutes, or until the cheese is a deep golden brown.
Cool for about an hour, then carefully invert the ring onto a cutting board.
Slice the ring, then top with any extra Parmesan and basil.
Place a small bowl filled with marinara at the center of the ring, for dipping.
Serve!
Nutrition Information
Serving size:
#servesize#
Watch the recipe video here:
Here's a new way to enjoy Lasagna! FULL RECIPE: http://bzfd.it/2ib9I4PBUY THE TASTY ONE TOP: http://bit.ly/2vLAdTu

Posted by Proper Tasty on Saturday, August 26, 2017