Banana Cake with Cream Cheese Frosting
Fans of banana bread will go, well, bananas, for this towering banana cake with cream cheese frosting.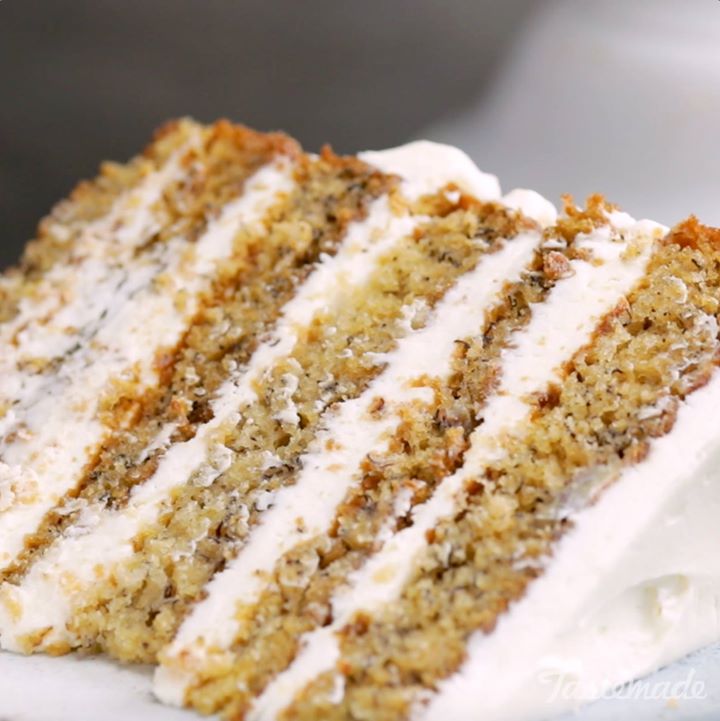 Ingredients
For the cake:
4 cups cake flour, sifted
2½ cups sugar, divided
4 teaspoons baking powder
4 teaspoons baking soda
2 teaspoons salt
1 cup vegetable oil
2 cups ripe bananas, mashed (approximately 2 bananas)
4 teaspoons vanilla, divided
1 cup buttermilk
4 large eggs, separated
2 teaspoons cream of tartar
For the icing:
4 cups cream cheese, at room temperature
2 cups butter, at room temperature
2 cups powdered sugar, sifted
4 tablespoons lemon juice
2 teaspoons vanilla
Instructions
Make the cake:
Preheat oven to 350 degrees, and grease six 9-inch cake pans with vegetable oil spray.
In a large bowl, combine cake flour, 2 cups of sugar, baking powder and soda, salt, oil, bananas, 2 teaspoons vanilla, egg yolks and buttermilk.
In a separate bowl, beat egg whites, ½ cup sugar, 2 teaspoons vanilla and cream of tartar with a hand mixer until stiff peaks form. Fold meringue mixture into banana mixture to combine. Pour into pans and bake until light golden brown and a toothpick inserted in the center comes out clean, roughly 20 to 25 minutes. Cool for 10 minutes, then unmold onto a rack to cool completely before frosting.
Make the icing:
In the bowl of a stand mixer with the paddle attachment, cream butter and cream cheese until smooth. Add powdered sugar, lemon juice and vanilla. Mix until combined.
Assemble the cake:
Place a layer on a cake plate and cover the top with a half cup of frosting. Spread to create an even layer, approximately a half-inch thick. Continue until all layers are used and you have a towering six-layer cake. Finish the top layer with the remaining frosting. Cake will keep up to 5 days covered at room temperature.
Watch the recipe video here:
Banana Cake with Cream Cheese Frosting

Layers of moist banana cake and cream cheese frosting – can we get an amen?!Save this recipe: https://taste.md/2vq5HemMore recipes on our app ? http://taste.md/2wkue93

Posted by Tastemade on Thursday, August 24, 2017