Carrot Cake Cheesecake
Half carrot cake, half plain cheesecake, this hybrid dessert is a slice of heaven.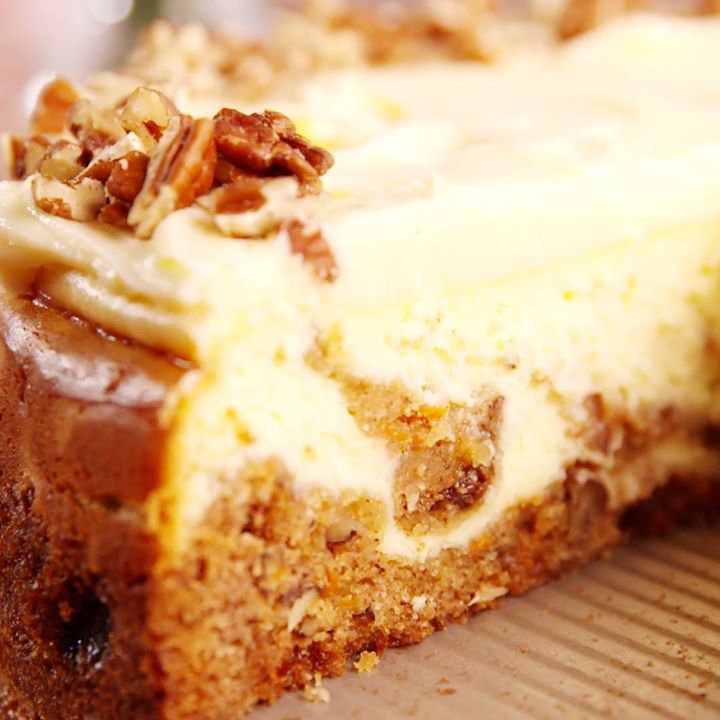 Ingredients
FOR THE CARROT CAKE
Cooking spray, for pan
1½ c. all-purpose flour
1 c. sugar
1 tsp. cinnamon
1 tsp. kosher salt
1 tsp. baking soda
¾ c. canola oil
2 large Eggs, beaten
1½ c. grated carrots (from 1 large)
½ c. raisins
½ c. chopped pecans or walnuts
FOR THE CHEESECAKE
2 8-oz. packages cream cheese, at room temperature
¾ c. sugar
¼ tsp. kosher salt
1½ tbsp. all-purpose flour
½ tbsp. pure vanilla extract
2 large eggs
½ c. sour cream
FOR THE FROSTING
1 c. powdered sugar
4 tbsp. butter, softened
4 oz. softened cream cheese
½ tsp. pure vanilla extract
Chopped pecans or walnuts, for garnish
Instructions
Preheat oven to 350° and grease a 9" springform pan.
Make carrot cake mixture: In a large bowl, combine flour, sugar, cinnamon, salt and baking soda. Stir in oil, then add eggs and mix until combined. Add carrots, raisins and nuts and mix until combined.
Make cheesecake mixture: In a large bowl using a hand mixer or in the bowl of a stand mixer using the whisk attachment, beat cream cheese and sugar until smooth. Stir in salt and flour.
Mix in vanilla and eggs, beating 1 minute between each addition, then add sour cream.
Assemble cheesecake: Pour ⅔ carrot cake mixture into prepared pan and smooth top with spatula. Top with spoonfuls of ⅓ cheesecake mixture, then pour over remaining carrot cake mixture. Top with remaining cheesecake mixture and smooth top with a spatula.
Bake until center is only slightly jiggly, 1 hour.
Let cool completely, 1 hour, then transfer to the fridge to cool, 4 hours, or up to overnight.
When ready to serve, make frosting: Beat sugar, butter, cream cheese and vanilla until smooth.
Frost cheesecake, then garnish with pecans or walnuts and let chill, 10 minutes, before serving.
Watch the recipe video here: