Cauliflower Nachos
We gave these "nachos" a traditional Mexican spice, but feel free to eliminate or even up the amounts to your heart's desire.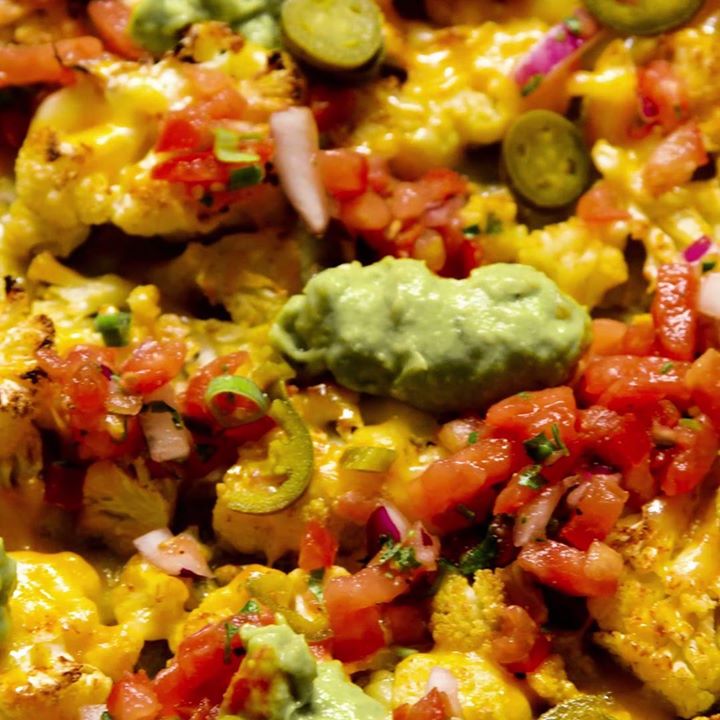 Ingredients
2 small heads (or 1 large head) cauliflower, chopped
3 tbsp. extra-virgin olive oil
1 tsp. kosher salt
½ tsp. cumin
½ tsp. paprika
¼ tsp. chili powder
¼ tsp. garlic powder
1 c. Colby-Jack, shredded
Salsa, for serving
Guacamole, for serving
Pickled Jalapeños, for serving
Instructions
Preheat oven to 425º.
To a large baking sheet, add cauliflower. Drizzle with olive oil. Sprinkle all over with salt, cumin, paprika, and chili powder. Toss to coat. Roast until tender and golden, 20 to 25 minutes.
Top with Colby-Jack cheese and return to oven until melted, 5 minutes more.
Garnish with your favorite salsa, guacamole, and pickled jalapeños.
Watch the recipe video here: