Jambalaya Penne Pasta
A splash of cream makes Cajun jambalaya pasta so much yummier.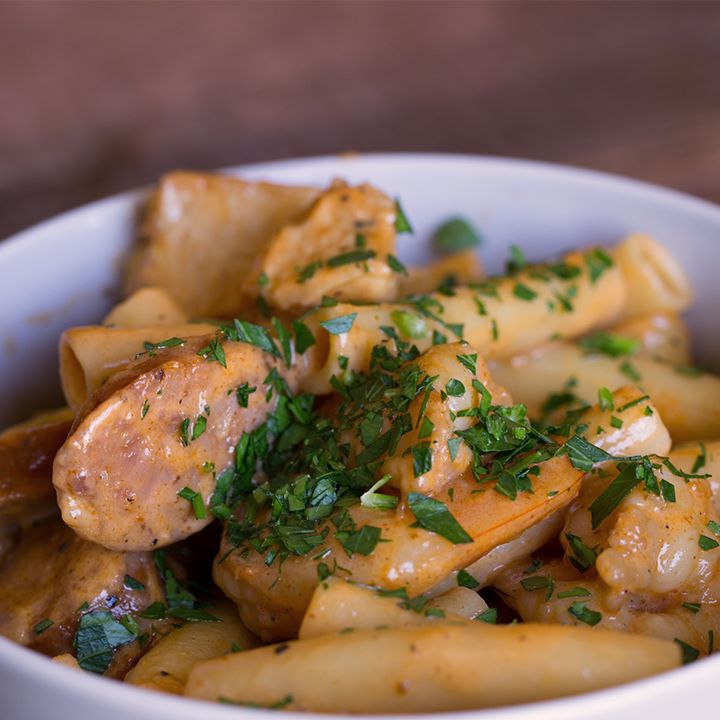 Ingredients
2 tablespoons olive oil
½ green bell pepper, thinly sliced
Small red onion, thinly sliced
1 tablespoon Cajun seasoning
4 tablespoons tomato sauce
Salt and pepper
1 large chicken breast, cubed
½ pounds large shrimp, peeled and deveined
2 links andouille sausage, cubed
1 box penne pasta
1½ cups heavy cream
Fresh parsley for garnish
Instructions
Heat 1 tablespoon of oil in a large skillet. Cook the peppers and onion until tender, seasoning with a pinch of the Cajun seasoning and salt and pepper. Remove from skillet and set aside.
Add another tablespoon of oil, then slowly add the chicken, cooking until brown. Add the shrimp and Cajun seasoning and cook until pink. Add the sausage and cook until warmed through.
In a large pot of boiling water, cook the pasta to your preference and drain.
Add the pasta to the skillet, then add the cream, the cooked vegetables and a pinch of salt and pepper. Bring to a boil. Sprinkle with parsley, transfer to a plate and serve.
Watch the recipe video here:
Louisiana meets Italy in this creamy pasta dish.Taste for Yourself: taste.md/2c72DtO

Posted by Tastemade on Sunday, March 18, 2018