Nikki's Perfect Pastitsio
My mother used to work so hard in the kitchen to make this classic Greek dish, and the results were always well worth her effort. My recipe for pastitsio is easier, a bit lighter and every bit as great as Mom's.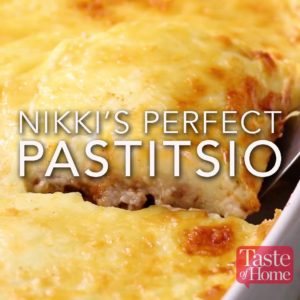 Ingredients
2-1/2 cups uncooked penne pasta
2 tablespoons butter, melted
1 cup grated Parmesan cheese
1-1/2 pounds ground sirloin
1 medium onion, chopped
2 garlic cloves, minced
1 can (15 ounces) tomato sauce
½ teaspoon salt
½ teaspoon ground cinnamon
1 cup shredded Parmesan cheese, divided
BECHAMEL SAUCE:
½ cup butter, cubed
⅔ cup all-purpose flour
½ teaspoon salt
¼ teaspoon pepper
4 cups 2% milk
2 large eggs, beaten
Instructions
Cook pasta according to package directions; drain. Toss with butter; add grated Parmesan cheese. Transfer to a greased 13x9-in. baking dish.
Preheat oven to 350°. In a large skillet, cook beef and onion over medium heat 8-10 minutes or until beef is no longer pink, breaking beef into crumbles; drain. Add garlic; cook 2 minutes longer. Stir in tomato sauce, salt and cinnamon; heat through. Spoon over pasta. Sprinkle with ½ cup shredded Parmesan cheese.
In a large saucepan, melt butter. Stir in flour, salt and pepper until smooth; gradually add milk. Bring to a boil; cook and stir 1-2 minutes or until thickened.
In a small bowl, whisk a small amount of hot mixture into eggs; return all to pan, whisking constantly. Bring to a gentle boil; cook and stir 2 minutes. Pour over beef mixture. Sprinkle with remaining cheese.
Bake, covered, 20 minutes. Bake, uncovered, 30-40 minutes longer or until golden brown.
Watch the recipe video here: