Chicken Alfredo Garlic Knot Ring
Mmmmm, this garlic knot chicken alfredo ring is gonna steal the show at your next get-together ?!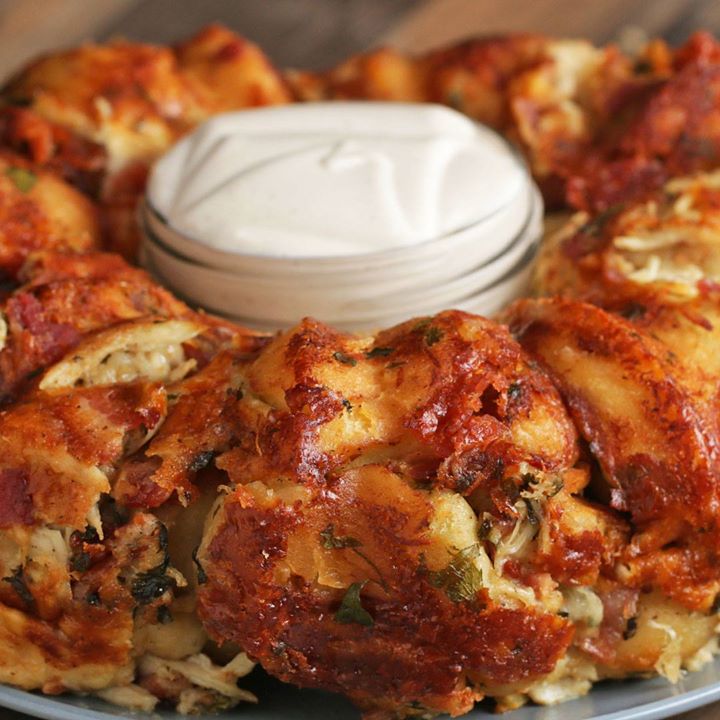 Ingredients
2 13.8-ounce packages (1½ pounds) pizza dough
2 cups chicken, cooked and shredded
1 cup bacon, cooked and chopped
2 cups shredded mozzarella
1 cup Parmesan, grated
3 tablespoons parsley, chopped
½ teaspoon pepper
1 teaspoon garlic powder
2 tablespoons olive oil
1 cup alfredo sauce
Instructions
Preheat oven to 375˚F (190˚C).
Cut pizza dough into 2-inch pieces and roll into balls.
In a bowl, add pizza dough balls, chicken, bacon, mozzarella, Parmesan, parsley, pepper, garlic powder, olive oil, and alfredo sauce, and mix to combine.
Scoop mixture evenly into a greased bundt pan, or a 9-inch cake pan.
Bake for 20 minutes, until top is golden and bubbling.
Use a spatula help the ring out of the pan, then invert onto a plate.
Place small bowl of alfredo sauce in the ring hole.
Serve immediately. Enjoy!
Watch the recipe video here:
Garlic Knot Chicken Alfredo Ring

Mmmmm, this garlic knot chicken alfredo ring is gonna steal the show at your next get-together ?!FULL RECIPE: http://bzfd.it/2vLH78NFIND IT IN THE APP: http://tstyapp.com/m/ROktIwuSfG

Posted by Tasty on Saturday, September 9, 2017