Bacon Cheeseburger Potatoes
These beautiful little guys, just look at them. The ultimate fun party snack, what could be more impressive than all the integral components of cheeseburger stuffed inside a potato? You'll be the talk of the town!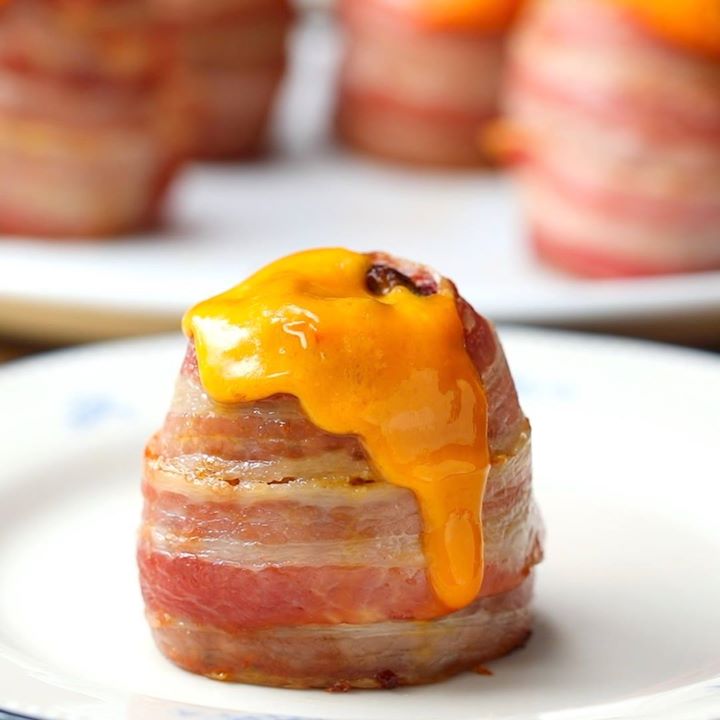 Ingredients
6 medium potatoes
1 tsp salt
1 tbsp oil
½ lb beef mince
1 tsp salt
1 tsp pepper
½ tsp garlic powder
250 g red cheddar
18 rashers bacon (depending on size)
2 tbsp BBQ sauce
Instructions
Preheat the oven to 180°C/360°F.
Pop a few medium potatoes in a roasting tin and sprinkle with salt and oil.
Bake for around 40 minutes until they are cooked through, then leave to cool and cut a slice off one end so they stand up. Gouge out a hole from the top and set them aside.
Make the burger mix - combine beef, salt, pepper and garlic powder.
Roll up a stick of the red cheddar in a little burger patty and place inside the cavity in each potato, then wrap the whole thing up in bacon and bake for around 20 minutes.
Remove from the oven, brush with BBQ sauce and place back in for a final 30 minutes, then eat.
Watch the recipe video here:
Bacon Cheeseburger Potatoes

Posted by Twisted on Saturday, January 6, 2018