Saint-Honoré
Make a statement with this circular puffed pastry topped with caramel, custard and named after the French patron saint of bakers and pastry chefs.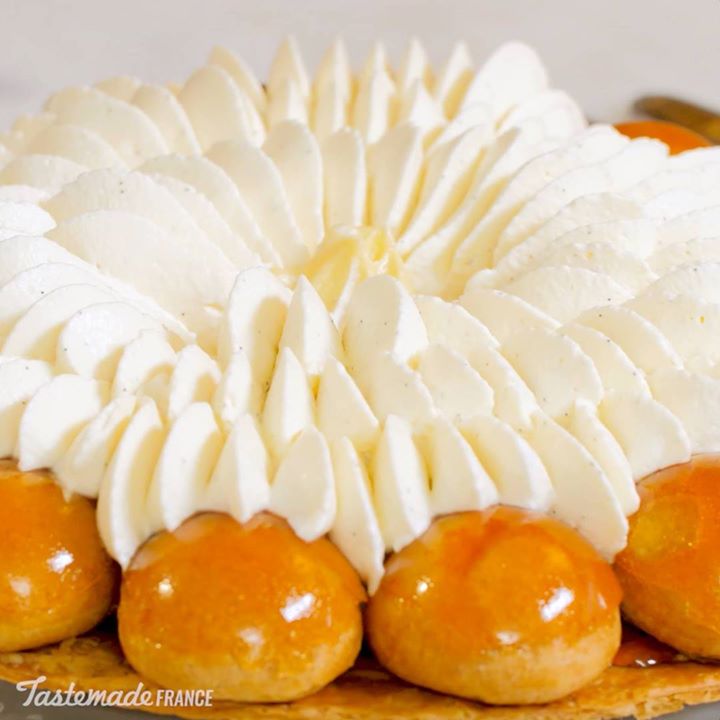 Ingredients
1 package puff pastry
Choux pastry:
½ cup water
½ cup milk
½ tablespoon sugar
½ tablespoon salt
½ cup butter
1 cup flour
4 eggs
Custard:
3 egg yolks
5 tablespoons sugar
2 tablespoons powdered milk
2 tablespoons butter
1 vanilla pod, scraped
1 cup milk
Caramel:
5 tablespoons sugar
⅓ cup water
Vanilla whipped cream:
3 tablespoons sugar
1 vanilla pod, scraped
½ cup mascarpone
2 cups whipping cream
Instructions
Preheat oven to 300 degrees. Prepare a baking sheet with parchment paper.
For the choux pastry: In a saucepan, add the water, milk, sugar, salt and butter. Cook over low heat, stirring regularly. Once combined, remove pan from heat and slowly mix in the flour. Transfer to a mixing bowl and mix in the eggs one at a time. Transfer dough to a pastry bag, and pipe circles onto prepared baking sheet. Bake for 20 minutes then remove and let cool.
For the custard: In a mixing bowl, combine egg yolks, sugar, powdered milk, butter and vanilla bean. In a small saucepan, heat the milk. Once the milk is hot, remove from heat and combine with the egg yolk mixture. Return mixture to stove and cook over medium heat until a thick custard is formed. Transfer to a piping bag, and fill each pastry puff with custard.
Increase oven to 320 degrees. Bake the puff pastry sheet for 5 minutes then transfer to a serving tray.
For the caramel: In a saucepan, add sugar and water. Bring to a boil and cook until caramelized.
For the whipped cream: In the bowl of a stand mixer, add sugar, vanilla bean, mascarpone and whipping cream. Beat until soft peaks form.
Dip the pastry puffs in the caramel. Drizzle puffed pastry with caramel sauce, then use the custard-filled puffs to form a circle around the edge of the puff pastry. Pipe remaining custard into the center of the circle. Pipe whipped cream over the dessert, and garnish with a vanilla bean. Enjoy!
Watch the recipe video here:
"I don't know what it is, but I want it in my mouth."Full Recipe: taste.md/2BdtH8T?: Tastemade France

Posted by Tastemade on Saturday, December 16, 2017