Tyler Florence's Fried Chicken
Tyler Florence's Fried Chicken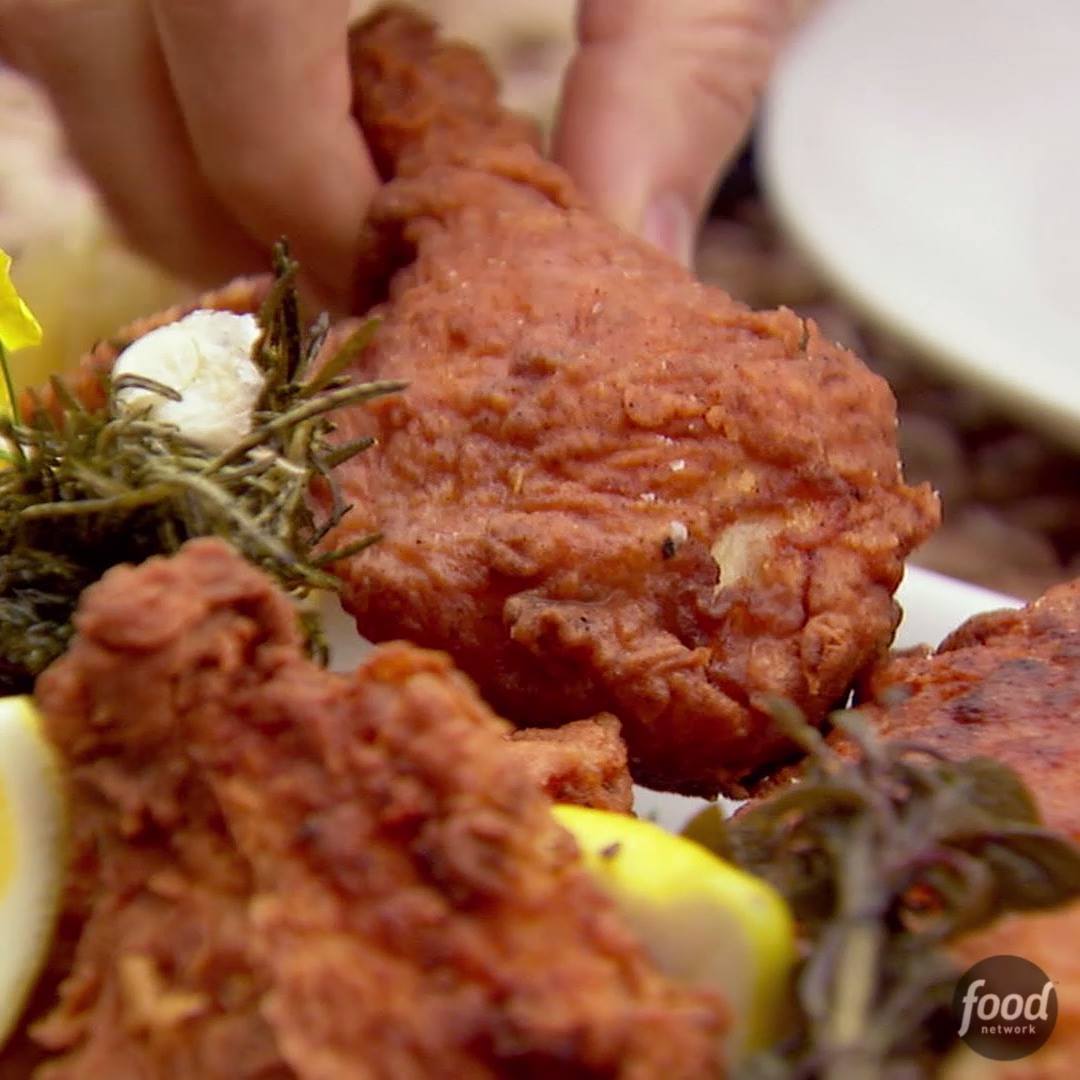 Ingredients
One 3-to 4-pound chicken, cut up into 10 pieces
Kosher salt
3 cups all-purpose flour
2 tablespoons garlic powder
2 tablespoons onion powder
2 tablespoons sweet paprika
2 teaspoons cayenne pepper
Freshly ground black pepper
4 cups buttermilk
2 tablespoons hot chili sauce, such as Sriracha
Peanut oil, for frying
½ head garlic, smashed, husk still attached
¼ bunch fresh sage
¼ bunch fresh thyme
3 big sprigs fresh rosemary
Lemon wedges, for serving
Instructions
Put the chicken pieces into a large bowl. Cover the chicken with water by 1 inch; add 1 tablespoon of salt for every quart of water. Cover and refrigerate at least 2 hours and up to overnight.
In a large shallow platter, mix the flour, garlic powder, onion powder, paprika and cayenne until well blended; season generously with salt and black pepper. In another platter combine the buttermilk and chili sauce with a fork and season with salt and black pepper.
Drain the chicken and pat it dry. Dredge the pieces, a few at a time, in the buttermilk and then dip them in the seasoned flour. Let the chicken rest while you prepare the oil.
Fill a large deep pot about three-quarters full with the oil. Add the garlic, sage, thyme and rosemary to the cool oil and heat over medium-high heat until the oil registers 350 to 365 degrees F on a deep-fry thermometer. (The herbs and garlic will perfume the oil with their flavor as the oil comes up to temperature.)
Working in batches of 3 to 4 pieces at a time, carefully add the chicken to the pot and fry, turning once, until golden brown and cooked through, about 12 minutes. Remove the chicken and herbs from the pot with a big skimmer, shaking off as much oil as you can, and put them on a tea towel or brown paper bag to soak up the oil. Sprinkle all over with salt and a dusting of black pepper. Repeat with the remaining chicken pieces. Scatter the fried herbs and garlic over the chicken. Serve hot with lemon wedges.
Watch the recipe video here: