DR PEPPER CHILI CHEESE DOG EGG ROLLS
All your fan-favorite finger foods are rolled up into this unbeatable game-day dish, brought to you by Dr Pepper.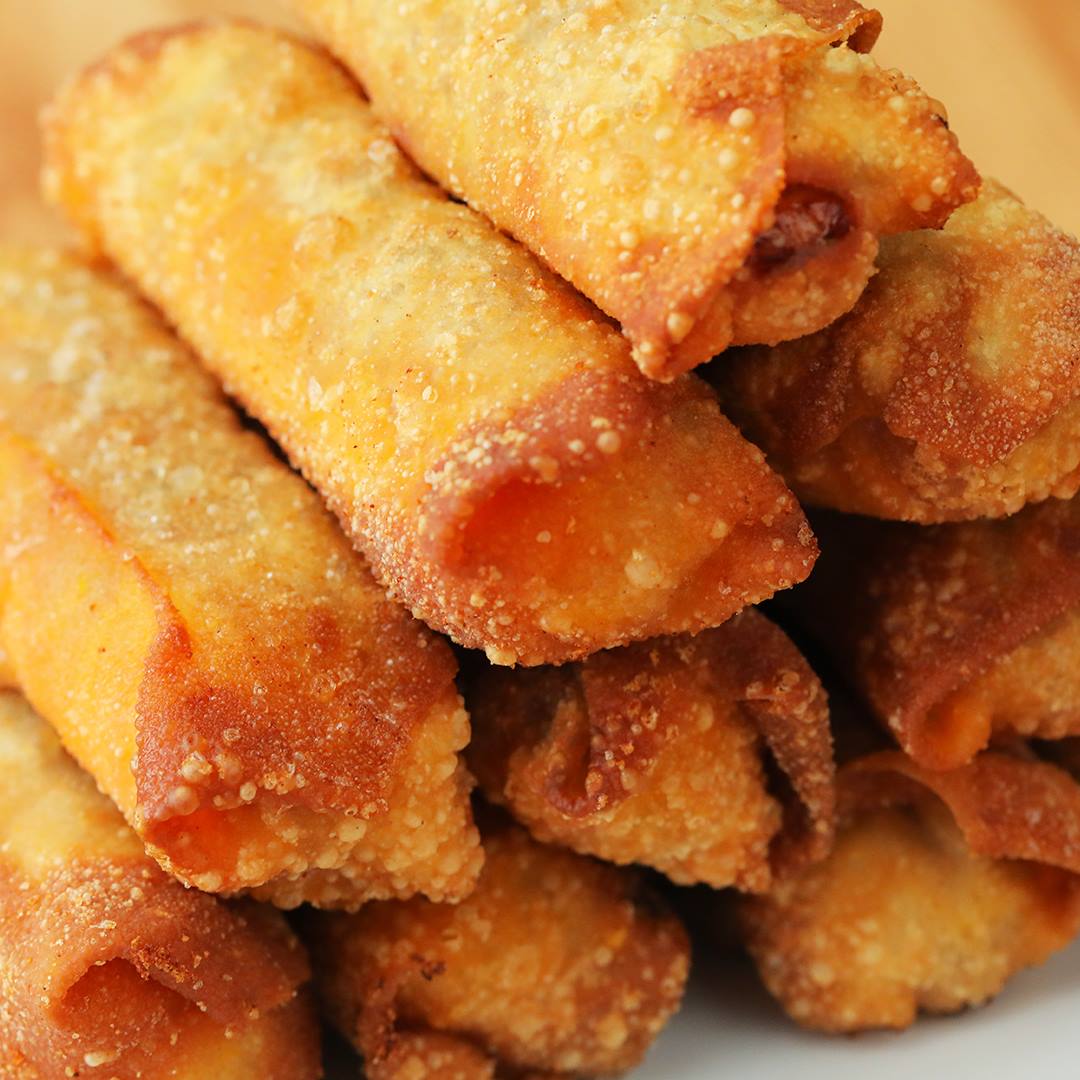 Ingredients
Dr Pepper Chili
olive oil
1 lb ground beef
1 teaspoon chipotle powder
½ tsp cumin
½ tsp oregano
1 tsp chili powder
Salt
Black pepper
½ small yellow onion, diced
1 clove garlic, minced
1 cup Dr Pepper
1 cup chicken stock
1 (14-oz) can crushed tomatoes
To assemble
Egg roll wrappers
1 package hot dogs
10 slices cheddar cheese
3 quarts vegetable oil, for frying
2–3 tablespoons water, in small bowl
Instructions
To prepare the chili, heat 1 tablespoon oil in a medium pot over medium heat. Add ground beef, breaking up the meat as it browns. Season with chipotle powder, cumin, oregano, chili powder, salt, and pepper. Once meat is browned and almost cooked through, remove from pot and set aside.
Add a teaspoon more oil to pot and lower heat to medium-low. Add onions. Cook until soft and translucent, about 5 minutes. Add garlic. Cook until fragrant, about 30 seconds, then stir with the surrounding onions.
Deglaze the pan by adding Dr Pepper and stir. Scrape up the browned bits on the bottom of the pan. Put heat on medium, bringing the mixture to a simmer. Add browned meat, crushed tomatoes, and chicken stock, then return to a simmer.
Simmer mixture for 10–15 minutes, and season with salt and pepper. Chili should be thick, with most of the liquid evaporated.
Place one sheet of egg-roll wrapper on a diagonal axis, so that the points are facing north, south, east, and west. On the bottom third of the wrapper, spread a tablespoon of chili into a thin layer like a rectangle. Do not spread all the way to the edges. Place one slice of cheese over the chili.
Lay a hot dog across the bottom of the cheese slice. Begin to gently roll the wrapper up over the hot dog from the bottom, tucking the sides in once halfway rolled. Spread a few drops of water on the edges of the top half of the wrapper with your fingertips. This will help seal the roll. Gently press the edges to seal. Repeat with remaining hot dogs.
Line a baking sheet with paper towels or parchment paper, and set a rack on top of it.
Fry a few egg rolls at a time in 350℉ oil, making sure not to overcrowd the pot. Fry each batch for 3–5 minutes, until golden brown, then place on rack to cool. Repeat with remaining egg rolls.
Watch the recipe video here:
Dr Pepper Chili Cheese Dog Egg RollsAll your fan-favorite finger foods are rolled up into this unbeatable game-day dish, brought to you by Dr Pepper.

Posted by Tasty on Tuesday, November 20, 2018