Cheesy Bacon Bombs
First of all, Let's talk about any form of cheese ball. You can NEVER go wrong! Especially when BACON is also involved. These Bombs will do no wrong. They take under 20 minutes to make and taste AMAZING. Kids having a sleepover? No big deal. You got this! CHEESY. BACON. BOMBS. Do it. Love it. Regret nothing.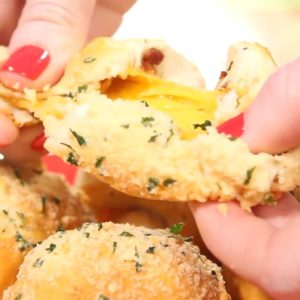 Ingredients
8OZ medium cheddar cheese, cut into 1-inch cubes
Bacon Bits
1 Can refrigerator biscuits, 5 or 8 per package
4 TBSP Butter
½ CUP shredded Parmesan cheese
1 TSP dried parsley flakes
2 Cloves garlic, minced
Instructions
Preheat oven to 375°F.
Spray pan with nonstick spray.
Cut each biscuit in half and slightly flatten with your fingers.
Place a cheese cube and bacon in the middle and wrap the biscuit dough around the cube.
In a small bowl, melt the butter in the microwave, approximately 20 seconds. Set aside.
In another small bowl, combine the Parmesan, dried parsley flakes, and minced garlic. Stir to combine.
One by one, roll each cheese bomb in butter and then dip in the cheese mixture.
Place each cheese bomb on the baking sheet approximately 2 inches apart.
Bake on the center rack for 12-14 minutes or until bombs are golden.
Remove from oven and serve immediately.
Enjoy!
Watch the recipe video here: