Oven-Baked Potato Fries
This is a great recipe to get kids started learning how to cook. Take a day, take a week, teach them new things each day. We used this for our 'at-home' camp week. Taught the kids how to cook one new thing each day for an entire week.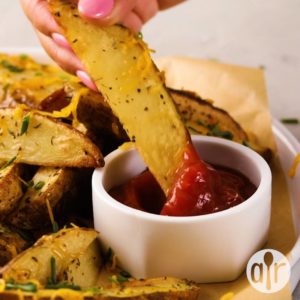 Ingredients
2 pounds baking potatoes, each cut into six wedges
2 tablespoons olive oil
½ teaspoon dried thyme leaves
¼ teaspoon ground black pepper
salt to taste
¼ cup shredded Cheddar cheese (optional)
Instructions
Preheat oven to 450 degrees F (230 degrees C).
Arrange potato wedges on a baking sheet. Drizzle olive oil over the wedges; season with thyme, pepper, and salt. Turn wedges with a spatula to coat with oil and seasonings.
Roast potato wedges for 15 minutes, turn, and continue roasting until soft in the center, about 15 minutes more. Transfer wedges to a platter and sprinkle cheese over them.
Watch the recipe video here: