Oven-Roasted Pulled Pork Sandwiches
Need an easy dish that will serve a crowd? Look no further than Oven-Roasted Pulled Pork Sandwiches!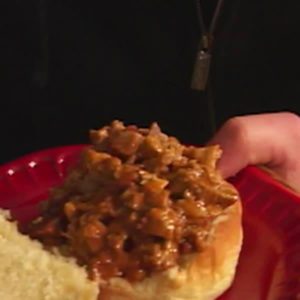 Ingredients
Dry Rub:
3 tablespoons paprika
1 tablespoon garlic powder
1 tablespoon brown sugar
1 tablespoon dry mustard
3 tablespoons coarse salt
1 (5 to 7 pound) pork roast, preferably shoulder or Boston butt
Cider Vinegar Barbecue Sauce:
1½ cups cider vinegar
1 cup yellow or brown mustard
½ cup ketchup
⅓ cup packed brown sugar
2 garlic cloves, smashed
1 teaspoon salt
1 teaspoon cayenne
½ teaspoon freshly ground black pepper
Serving:
12 hamburger buns
1 recipe Spicy Slaw, recipe follows
Pickle spears
Spicy Slaw
1 head green cabbage, shredded
2 carrots, grated
1 red onion, thinly sliced
2 green onions, chopped
1 red chile, sliced
1½ cups mayonnaise
¼ cup Creole mustard
1 tablespoon cider vinegar
1 lemon, juiced
Pinch sugar
½ teaspoon celery seed
Several dashes hot sauce
Kosher salt and freshly ground black pepper
Instructions
Mix the paprika, garlic power, brown sugar, dry mustard, and salt together in a small bowl. Rub the spice blend all over the pork and marinate for as long as you have time for, as little as 1 hour or up to overnight, covered, in the refrigerator.
Preheat the oven to 300 degrees F.
Put the pork in a roasting pan and bake for about 6 hours. Basically, roast the pork until it's falling apart and an instant-read thermometer inserted into the thickest part registers 170 degrees F.
To make the barbecue sauce: combine the vinegar, mustard, ketchup, brown sugar, garlic, salt, cayenne, and black pepper in a saucepan over medium heat. Simmer gently, stirring, for 10 minutes until the sugar dissolves.
Remove the pork roast from the oven and transfer to a large platter. Allow the meat to rest for about 10 minutes. While still warm, take 2 forks and "pull" the meat to form shreds. Using 2 forks, shred the pork by steadying the meat with 1 fork and pulling it away with the other. Put the shredded pork in a bowl. Pour ½ of the sauce on the shredded pork and mix well to coat.
To serve, spoon the pulled pork mixture onto the bottom ½ of the hamburger bun, and top with the spicy slaw. Serve with pickle spears and the remaining sauce on the side.
Spicy Slaw
Combine the cabbage, carrot, red onion, green onions, and chile in a large bowl. In another bowl, mix the mayonnaise, mustard, vinegar, lemon juice, and sugar; stirring to incorporate. Pour the dressing over the cabbage mixture and toss gently to mix. Season the cole slaw with celery seed, hot sauce, salt, and pepper. Chill for 2 hours in refrigerator before serving.
Watch the recipe video here:
Need an easy dish that will serve a crowd? Look no further than Oven-Roasted Pulled Pork Sandwiches! See Tyler Florence on #WorstCooks > Sundays at 9|8cSave the recipe: http://bit.ly/2TynMnu!

Posted by Food Network on Tuesday, February 12, 2019