Lomi-lomi Salmon Poke Bowl By Brooke Williamson
Wouldn't it be great to be sitting on the beach in Hawaii enjoying this tasty Poke Bowl?!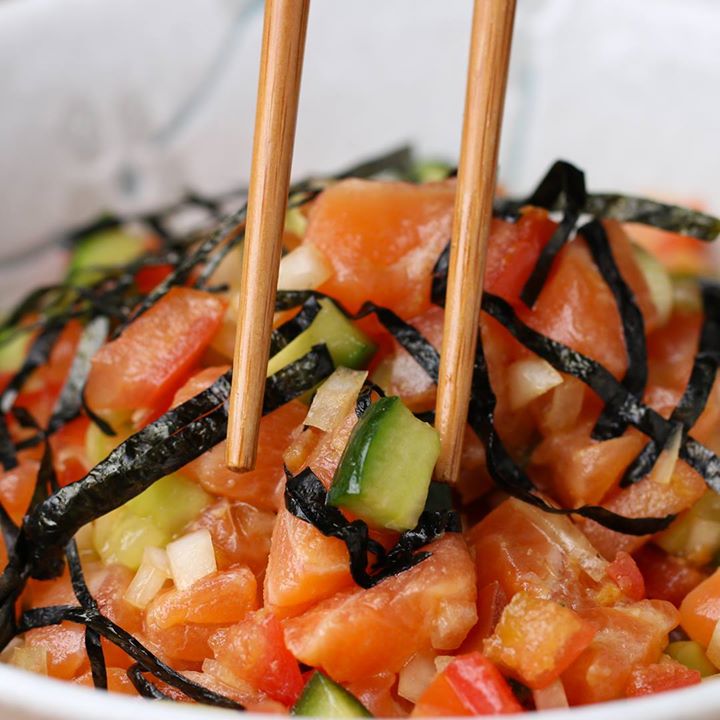 Ingredients
6 oz fresh salmon
salt, to taste
1 oz persian cucumber, cubed small
1 oz tomato, cubed small
1 oz scallion, sliced
1 oz onion, diced
2 oz shoyu dressing
12 oz short grain sushi rice, cooked
nori, sliced - roasted, unseasoned seaweed
SHOYU SAUCE
1 teaspoon fresh ginger, grated
1 clove garlic, grated
1 cup soy sauce
¼ cup granulated sugar
¾ cup rice vinegar
¼ cup mirin
¼ cup sesame oil
Instructions
Place salmon on a wire rack and season with salt on both sides. Cover and refrigerate for 2 hours.
Take cured salmon out of the refrigerator, rinse and pat dry. Slice into cubes. Set aside in a bowl.
Dice the cucumber and add into the bowl with the salmon.
Dice the tomato and add into the bowl.
Slice the scallion and add into the bowl.
Dice the onion and add it into the bowl. Mix until combined.
In another bowl, combine the ingredients for the shoyu sauce. Add sugar as early as possible so all the grains are dissolved.
Spoon shoyu dressing on poke bowl. Mix to coat.
In a small bowl, add cooked rice, top with poke ingredients, and spoon additional shoyu dressing to taste.
Slice nori into small strips.
Garnish with sliced nori and serve immediately!
Enjoy!
Watch the recipe video here:
Salmon Poke Bowl by Brooke Williamson #TastyStory

Wouldn't it be great to be sitting on the beach in Hawaii enjoying this tasty Poke Bowl?! Well, today's your lucky day! We teamed up with the Hawaii Food & Wine Festival to give away a trip for TWO to Hawaii! Get all the details here and enter for your chance to win: http://bit.ly/2xxQAEMFULL RECIPE: http://bit.ly/2xyszNM

Posted by Tasty on Wednesday, September 27, 2017